Son of people's Deputy and his friend who have a car accident, was drunk – police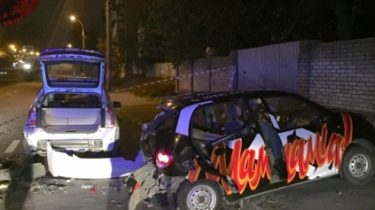 Son of people's Deputy and his friend who have a car accident, was drunk – police
© Facebook/Kiev Operational
The qualification of fault will depend on the severity of the injuries.
In fact DTP on the street, which gave the son of people's Deputy Igor Hammer Denis and his companion, opened the proceedings under article 286 of the criminal code of Ukraine – violation of traffic rules, which resulted in injury to 1 or more people.
About it reported the UNIAN in a press-service of the police of Kiev. According to preliminary data, the victims have minor injuries, but the doctors have not yet been reported. Their status will depend on the qualification of the case.
The press service of the police reported that the young people had signs of alcoholic intoxication, however, test on the spot refused.
"Police arrested 2 men from Mercedes, which was identified by witnesses. The driver refused the examination, although he had signs of intoxication. On a scene caused it is investigative-task force. The detainees were taken at the police station," said police.
We will remind, in the night on Sunday in the capital of the Mercedes at high speed collided with a police car and another car. Ended up in hospital, four people. And the two guys at first tried to flee to Mercedes, and when a car has damaged a wheel, ran the yards, they were detained by the police. The people's Deputy Igor Hammer confirmed that one of the guys is his son, and promised full assistance to the investigation compensation and treatment of victims.
Comments
comments