The accident with the son of the Deputy of the Hammer: the Driver of the Mercedes did not detain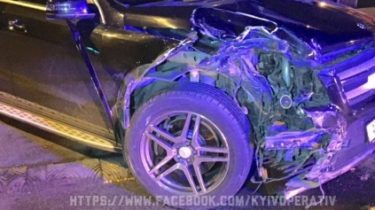 The accident with the son of the Deputy of the Hammer: the Driver of the Mercedes did not detain
© Facebook/Kiev Operational
The police reported details of the accident.
The press service of Kyiv police told TSN all the circumstances of the accident, which lit up the son of people's Deputy Igor Hammer.
As the head reported a press-service of the patrol police Victor Sheverda, patrol about 5 a.m. saw a Mercedes that was moving along the Avenue of Victory and violated the rules of the road. The police tried to stop the violator, using light beacons and audible signals, but the car continued driving.
In the area of Industrial bridge Mercedes tried to stop the other patrol team. The car is running, collided with a patrol car and a Daewoo Matiz, damaging two of my wheels, but continued to move. After passing a few hundred meters, the driver stopped at the intersection, the street Heroes of Sevastopol and the street.
From the Mercedes ran two young men and ran to the side of the street of Ivan Laspe. One patrol ran to catch up with the fugitives. Rest – assisted four victims, who were in the car Daewoo Matiz. Eventually police arrested two people identified by witnesses. The driver of the car from the survey refused. Although he had signs of intoxication. On the scene left the investigatory-operative group, the detainees were taken in Solomenskiy police Department. Further detainees have already worked by investigators. The driver was taken to a medical facility where he refused to surrender all biological fluids from the body and refused to undergo examination at a medical facility. However, there is the opinion of the psychiatrist about the characteristics of alcoholic intoxication of the driver.
In the patrol police refused to disclose the name of the driver of the car and whether he is the son of the Deputy. But said that according to the detainee at the moment released from the site. However, a criminal case was opened.
We will remind, in the night on Sunday in the capital of the Mercedes at high speed collided with a police car and another car. Ended up in hospital, four people. And the two guys at first tried to flee to Mercedes, and when a car has damaged a wheel, ran the yards, they were detained by the police. The people's Deputy Igor Hammer confirmed that one of the guys is his son, and promised full assistance to the investigation compensation and treatment of victims.
Comments
comments