Because of heavy shelling of the strongholds of the soldiers carry food and weapons into position manually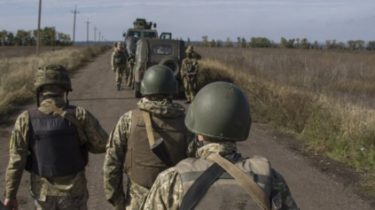 Because of heavy shelling of the strongholds of the soldiers carry food and weapons into position manually
© UNIAN
The militants do not stop fire attacks.
The film crew of TSN visited the positions near Novotroitsk, where he had been wounded fighter. There on the outskirts of Dokuchayevsk for several days on positions of our soldiers does not cease the fire of the enemy.
Positions visited by the correspondents, not fired from a large caliber. But the soldiers literally almost always go squatting because working closely snipers, grenade launchers and so on. The soldiers say that some of the strong points can't even drive all the army equipment and belongings from water to weapons are in position manually.
"In the last days shelling technique can not drive. In the backpack on his shoulders and carry some bread or something else. We've been here for three days on the diet", – said the fighter APU.
Press officer APU says that the enemy calculates emplacements and reconnaissance trying to calculate how much the position of personnel after the dismissal of the sixth wave.
The increasing attacks on the positions of the soldiers explain the rotation in the occupied lands. That went new batch of Russian mercenaries, the enemy did not hide – literally 300 meters hung a Russian flag. The military also noted that among the terrorists we are fighting against and women. They have the occupiers are working snipers.
Note that in Marinka and Krasnogorovka the military in addition to militants for a second day and fired at civilians. During the day there are three victims. And every day – several broken homes. The enemy fired at Krasnogorovka even out of the city. A little did not reach powerful projectiles to the student dormitories. The disciples there again spend the night in the basement.
By TSN correspondent Anna Bock
Comments
comments