The new consumer basket: the leggings are only unemployed women, men briefs for the quarter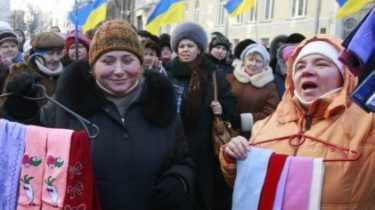 The new consumer basket: the leggings are only unemployed women, men briefs for the quarter
© UNIAN
In the document considerably expanded the list of drugs.
On the government portal was published Cabinet decision approving a new set of consumer basketon the basis of which calculated the living wage and depend on many welfare benefits in the state.
"The government's decision to increase the consumption of some foods (cereals, meat, fruits), increased the number of individual items in the kits of non-food items (clothes, shoes) and reduced the time you use them. Revised sets of daily necessities, sanitation and medicines, housing and communal services and communication services", – stated in the explanatory note to the resolution.
At the same time, many items of the consumer basket, is still far from real life. For example, trudoustroeno woman has six panties for a year. As soon as she will lose her job is "fun" stretched already for two years. However, there are unemployed and "benefits" – she provided some tights for three years. Trudoustroeno such clothes officials have not provided.
See also: Ukraine has worsened consumer sentiment – people are abandoning expensive purchases
Working men will have the whole block to wear some pants, socks a month.
The document recorded the presence of the family of one landline for 20 years. And not a word – about phones as if they do not exist.
Most of the changes with respect to drugs, officials have expanded their list. For example, added drotaverine cure gynecological diseases, gastrointestinal diseases and constipation. At the same time cut down the consumption of wool – from 1.7 kg to 1 kg per year
Took care of spiritual development. A year Ukrainian can buy six books and six times to go to cultural events.
Comments
comments