China and Ukraine overlook the strong level of cooperation: "the silk road" and free trade zone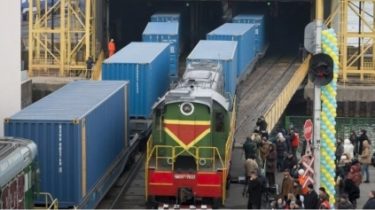 China and Ukraine overlook the strong level of cooperation: "the silk road" and free trade zone
© UNIAN
With the initiative about creation of free trade zone were made by China.
China offers Ukraine to set up joint free trade zone. Also calling Ukraine a very important infrastructure project "silk road", which unites more than 60 countries and trade relations connects China with Europe.
"Without Ukraine, implementation of the initiative (silk road) will be incomplete, even unthinkable. Ukraine became one of the first among more than 60 countries that have joined the way," said Chinese Ambassador Du Wei at the forum in Kiev on development of infrastructure project "silk way" in Ukraine. This writes UNIAN.
Final Kiev official response on free trade zone with China yet, but in this collaboration are interested.
"The Chinese side has proposed working-level ambitious goal – the creation of Ukrainian-Chinese free trade zone. I hope to intensify research this issue with the Ukrainian side," – said the Ambassador of China.
Read also: China will allocate 5 million UAH for the education of children with disabilities in Ukraine
"When will be developed the national export strategy, we can take a closer look at promising markets and how we increase access to them. The free trade agreement is not the only mechanism of presence of Ukrainian goods to this market", – said Deputy Minister of economic development and trade, trade representative of Ukraine Natalia Mykolskiy.
She also called the promising areas of cooperation between Ukraine and China.
"We have done a lot – now it is important to attract investment into production for export. It is very important that strategic cooperation between Ukraine and China is developing and we have fruitful intergovernmental dialogue. Promising spheres of cooperation between Ukraine and China is industry, agriculture, tourism, the combination of innovation hubs and IT industries," said Gaina.
At the same time, China is creating a Fund volume of EUR 10 billion for investments in Central and Eastern Europe. He will act on the basis of the established holding Sino-CEEF for economic cooperation with the countries of Central and Eastern Europe. This writes Deutsche Welle. Funds will be directed on joint infrastructure projects, high-tech industry production and mass consumption.
In 2013, Beijing announced the beginning of a global economic project "silk road". Its purpose is to deepen cooperation between the countries through which transport corridors pass to Europe from Asia.
We will remind, in the winter of 2016 , the first freight train on the new silk road, bypassing Russia got Ukraine to the border of China. However, the reverse route is not immediately released due to lack of orders.
Comments
comments