The doctors confirmed that the son of the Deputy of the Hammer was drunk behind the wheel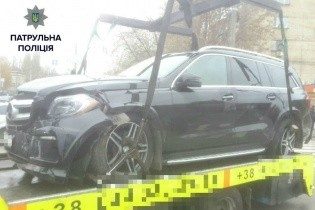 The doctors confirmed that the son of the Deputy of the Hammer was drunk behind the wheel
© facebook.com/police.gov.ua
The decision against the driver will be made soon.
The doctor, after examination confirmed that the son of people's Deputy Igor Hammer Denis was intoxicated during the accident.
This was stated by the head of the main Directorate national police of the Metropolitan Andrey Krishchenko.
"During interrogation that he (Dennis Hammer, – Ed.) was driving the vehicle. There help doctor who after examination gave the information that he has all the signs of intoxication. The consequence adheres to this version", – quotes 112.ua quote COP.
Read also: MP's Son and his friend who have a car accident, was drunk – police
Also Krishchenko added that after a series of examinations the decision will be taken against the driver.
"Will be now carried out the examination of the degree of severity of injuries (the victims – Ed.) And the decision will be taken against the driver. Circumstances that were established at that time, and the degree of bodily harm that was caused, according to the current criminal procedure code did not give the investigator the opportunity to take a decision on article 208 of the detention", he added.
We will remind, in the night on Sunday in the capital of the Mercedes at high speed collided with a police car and another car. Ended up in hospital, four people. And the two guys tried to run Mercedes, but when a car has damaged a wheel, ran the yards, they were detained by the police. The people's Deputy Igor Hammer confirmed that one of the guys is his son, and promised full assistance to the investigation compensation and treatment of victims.
Son of MP drunk rammed a police car and tried to escape
TSN. Wounds
Today, 09:23
Add to favourites
The accident in the hospital were four people. Denis Mallet was released, but was opened criminal proceedings. In the night of Sunday the Mercedes did not stop at the request of the police at high speed rammed the first patrol car and then another car. Passengers of the last car were hospitalized. Previously known, and all have minor injuries. Son of people's Deputy in the car was with a friend. Both attempted from the scene to escape.
Comments
comments