The militants fired at Krasnogorovka: because of the "Grad" students were hiding in the basement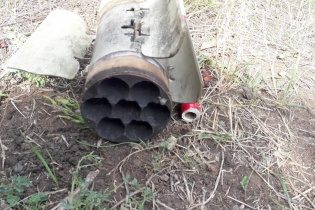 The militants fired at Krasnogorovka: because of the "Grad" students were hiding in the basement
© Facebook/the press-center of staff ATO
Only in the Donbass injured three civilians.
Fighters this weekend resumed shelling of residential areas of Marinka and Krasnogorovka. One of the residents – Nina Ogino in the house through the ceiling flew a powerful projectile. He was in a room where normally sleeps four-year-old grandson, said in a message to TSN. Morning. That evening, my daughter went with the boy to visit.
There are walls in the house broke the heating system.
See also: Rapping about war and the medal just on the battlefield. As "stalkers" to protect the industrial area of Avdeyevka
Despair ran people with several streets. Everyone is discussing how, after 20 hours the militants began firing on Krasnogorovka – everywhere from large caliber. Even if one flew into the garden, the debris scattered for several yards.
The head of the military-civil administration Head Oleg Levanchuk notice that you could hear it fired on residential areas because, in addition to the mortar explosion, there was another crunch of the material.
"No military positions here was not and never will be," he said.
Fighters after the shelling went around the yards and estimated losses. And the ambulance took away the wounded. This time it was with light injuries. All the injured among the civilian three.
It was not inadvertent: all night a few streets already shuddered from the massive attacks. In Krasnogorovka say – it's a little unaccustomed to this and re-count the losses.
Did not reach houses even more powerful fragments of "Grad". Their military gathered near the farm of the agricultural College. That evening the students and teachers hid in the basement.
Earlier it was reported that for last days fighters 52 times opened fire at positions of the Ukrainian defenders.
Comments
comments