The son of the deceased in the accident did not argue with his father, can run across the Avenue Vatutina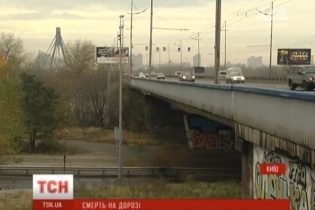 The son of the deceased in the accident did not argue with his father, can run across the Avenue Vatutina
The family still can not understand why my father took such a step.
TSN managed to contact 21-year-old son of the deceased men, who along with the youngest child ran across the Avenue Vatutina.
The boy told his mother the third, 2-year-old son was in the house, and the father of 7-year-old boy accompanied the eldest son and his girlfriend. They were returning home after a circus performance. And there are no disputes between him and the father in the road arose.
"No there was no dispute. I was with my girlfriend, and my dad and my brother. We went to the circus, after the circus was trying to get to the subway, we saw no transitions, and started to look. My dad does not drink alcohol almost never, and then was completely sober.
As it happened, he said, "should cross". I don't know what he had in mind was. I stopped to look at the map in the phone where to find the transition, and have been looking for, and they went in the opposite direction in the direction of Troyeshchyna, and then came back and went in the direction of stop. I thought they were at the bus stop will wait for some kind of transport, and they went ahead and started to cross the road," he told TSN via telephone 21-year-old boy.
The guy with the girl after a short period of time also went towards the spot and saw some cars stopped with emergency alarms, and soon there arrived the carriage of an emergency. Closer, the boy saw under the covers of his 7-year-old brother.
Now the whole family is in very serious condition, they can't understand why my father took such a step. After the forensic family will give the dead bodies, then they will be able to bury them.
About the tragic accident became known the night before. Man with 7-year-old son ran Vatutina prospect at an undisclosed location, and were hit by a car. The man died on the spot. For the life of the child fought the doctors, but to save him failed. Earlier media reports said that the father was arguing with his eldest son, will they be able to cross the Avenue.
Deadly dispute: in the capital, the father and son were killed in a deadly accident
TSN. 19:30
Today, 20:17
Add to favourites
Late last night a man with 6-year-old son decided to cross one of the busiest routes of the city – prospect Vatutina. Had to cross only three lanes of eight, then they got hit by a car. According to preliminary information, the man ran across the roadway, because they argued with the eldest son, to travel that distance faster than the one through the underpass.
Comments
comments