Ukraine is ready for the "green corridor" for the withdrawal of Russian troops from Transnistria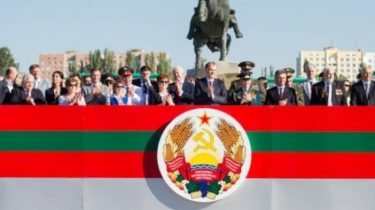 Ukraine is ready for the "green corridor" for the withdrawal of Russian troops from Transnistria
© president.gospmr.ru
The weapons that are placed on military depots in the village Cobasna, pose a significant risk to residents as Moldova and Ukraine.
Ukraine is ready to provide "green corridor" for the evacuation of Russian troops and weapons, which is placed in the village Cobasna in unrecognized Transnistria. To such conclusion the defense Ministers of Ukraine and the Republic of Moldova Stepan Poltorak and Anatol Salaru, writes Deschide.
According to Salaru, the weapons, which to be in military warehouses in the village Cobasna, pose a significant risk to residents of Moldova and Ukraine.
By the end of this year will be developed a detailed plan for the export of arms and the withdrawal of Russian troops from the ogrf the country.
"The Moldovan military Department was officially informed that the Ukrainian side is ready to prepare a special corridor for withdrawal of Russian troops and weapons", – he said.
The parties agreed on the meeting of military experts of both countries in order to discuss a number of technical issues: check the appropriate escorts from Moldova and the way by which they will enter on the territory of Ukraine, as well as their further route through the territory of Ukraine.
The parties also want this mission took place under the auspices of the OSCE and the UN.
See also: "Givi" hastily moved the girl in Transnistria and sells apartments – an associate of gunman
We will remind that earlier Transnistria started the preparation of accession to Russia. The leader of the breakaway Republic Yevgeny Shevchuk signed a decree, in which the legal system of Transnistria should be given to the Federal law of the Russian Federation.
Under the wing of the Kremlin: how to change the relations of Moldova and Ukraine in the case of the presidency of Igor Dodon
TSN. 19:30
1 Nov, 20:32
Add to favourites
If elections in Moldova were held in one round, this person already yesterday would become the President of Moldova. The leader of the socialist party, openly sympathetic to Russia – Igor Dodon. The presidential elections in Moldova are marked by very low support for the political forces defending the Romanian vector. Dodon is an active anti-Romania policies, defends the dialogue with Transnistria and supports the federalization of Moldova.
Comments
comments