Fun with Babes. British artist illustrated celebration of the trump in the event of victory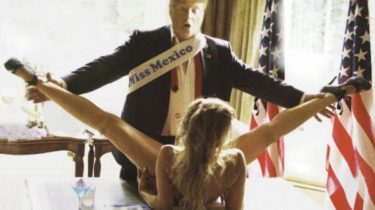 Fun with Babes. British artist illustrated celebration of the trump in the event of victory
Curiosities
Today, 12:12
1 of 11

Very similar to trump male has fun surrounded by hot girls.
© Alison Jackson

1 of 11

Very similar to trump male has fun surrounded by hot girls.
© Alison Jackson

1 of 11

Very similar to trump male has fun surrounded by hot girls.
© Alison Jackson

1 of 11

Very similar to trump male has fun surrounded by hot girls.
© Alison Jackson

1 of 11

Very similar to trump male has fun surrounded by hot girls.
© Alison Jackson

1 of 11

Cover of the book "Private" Alison Jackson.
© Alison Jackson

1 of 11

Very similar to trump male has fun surrounded by hot girls.
© Alison Jackson

1 of 11

Very similar to trump male has fun surrounded by hot girls.
© Alison Jackson

1 of 11

Very similar to trump male has fun surrounded by hot girls.
© Alison Jackson

1 of 11

Very similar to trump male has fun surrounded by hot girls.
© Alison Jackson

1 of 11

Very similar to trump male has fun surrounded by hot girls.
© Alison Jackson
Very similar to trump male has fun surrounded by hot girls.
© Alison Jackson

Very similar to trump male has fun surrounded by hot girls.
© Alison Jackson

Very similar to trump male has fun surrounded by hot girls.
© Alison Jackson

Very similar to trump male has fun surrounded by hot girls.
© Alison Jackson

Very similar to trump male has fun surrounded by hot girls.
© Alison Jackson

Cover of the book "Private" Alison Jackson.
© Alison Jackson

Very similar to trump male has fun surrounded by hot girls.
© Alison Jackson

Very similar to trump male has fun surrounded by hot girls.
© Alison Jackson

Very similar to trump male has fun surrounded by hot girls.
© Alison Jackson

Very similar to trump male has fun surrounded by hot girls.
© Alison Jackson

Very similar to trump male has fun surrounded by hot girls.
© Alison Jackson
The artist was struck by elections in the United States.
World-renowned artist from the UK Alison Jackson has made a series of parody images of "double" of the candidate in US presidents from Republican Donald trump.
The woman is portrayed as being very similar to a trump male has fun surrounded by hot girls, writes the Mirror. According to her, in these photos, Donald celebrates his win in the presidential race.
#TRUMP #AlisonJackson #HGContemporary pic.twitter.com/6yMcFqAHh4
— Alison Jackson (@alisonjackson) 26 Oct 2016
The artist said that the American elections it is very impressed.
See photos: American photographer section models and put them on his head as a sign of protest against trump
"This is a bad television show. And Donald trump is the star of the reality, as opposed to the same Kardashian".
It is noted that Alison filmed this parody to celebrate the release of his new book with the title "Private".
We will remind, earlier statue of a naked candidate in US presidents of Donald trump in full-length was sold for 21.8 thousand dollars from the auction, organized by auction house Julien's Auctions. Earlier the statue was installed by the American NGO Indecline, which brings together creative workers.
Comments
comments