Putin, punish. Crazed Russian singer dedicated a new song to the head of the Russian Federation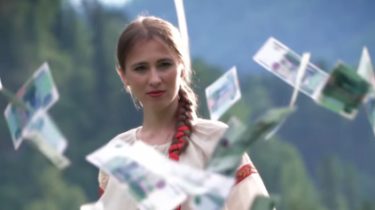 Putin, punish. Crazed Russian singer dedicated a new song to the head of the Russian Federation
© YouTube/Mashany Music
A fan of the Russian President once again sang in a dress-tricolor.
Singer from Russian Novosibirsk alias Mashani wrote a new song about the Russian leader Vladimir Putin.
The blonde shot a video of the field where throwing money and asks officials "to clean hands" from the Siberian lands.
See also: the Eurovision song contest in Slovenia derided Putin in a comic video clip
Not done to the songs, without mentioning Putin. Mishani glorifies him and asked to punish the unworthy servants.
"Get your hands off of the earth folk, it is our pride, it is the gift natural. Our dear Putin, elected nationwide, punish worthless — save Russia," she sings.
Earlier Mashani has already published a video in which he sings about love to Putin. The video has been viewed more than 3.5 million users, while dislikes under it was four times more than likes.
Comments
comments