"Unique peacekeeping": the leader of the unrecognized Transnistria opposed the withdrawal of Russian troops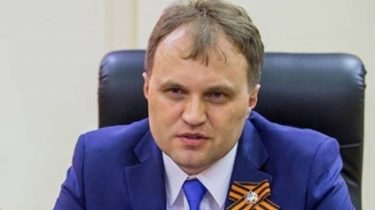 "Unique peacekeeping": the leader of the unrecognized Transnistria opposed the withdrawal of Russian troops
© president.gospmr.ru
According to Shevchuk, "the Russian group of forces, which plays a key role in "peacekeeping" on the Dniester".
The President of the unrecognized "Transnistrian Moldovan Republic" Yevgeny Shevchuk spoke out against the withdrawal of Russian troops from the region.
About it reports TASS.
"The Russian group of forces, which plays a key role in "peacekeeping" in the Dniester region, is a unique example of "peacekeeping", — said Shevchuk.
He even believes that this operation is a guarantee of peace and stability in Transnistria. According to Shevchuk, not yet a final political decision on settlement of the conflict, there is no sense in removing the Russian group of forces.
See also: Transnistria detained six Ukrainians who are accused of military surveillance
Recall that Ukraine is ready to provide "green corridor" for the evacuation of Russian troops and weapons, which is placed in the village Cobasna in unrecognized Transnistria. To such conclusion the defense Ministers of Ukraine and the Republic of Moldova Stepan Poltorak and Anatol Salaru.
According to Salaru, the weapons, which to be in military warehouses in the village Cobasna, pose a significant risk to residents of Moldova and Ukraine.
The President of the Republic of Transnistria was ordered to prepare for accession to Russia
TSN. 16:45
9 September, 17:39
Add to favourites
The corresponding order appeared on the website of Yevgeny Shevchuk. It refers to the outcome of the unrecognized world referendum on 17 September 2006 in which a majority voted for joining Russia. Among the priority tasks that the leader of the unrecognized Republic has set his Ministers – the harmonization of the Transnistrian legislation with the Russian.
Comments
comments