Kononenko disown armchair of the head of the Odessa regional state administration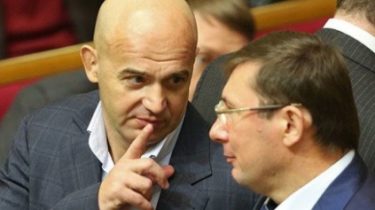 Kononenko disown armchair of the head of the Odessa regional state administration
© Kyiv Post
He recalled that the head of RSA select the competition.
First Deputy Chairman of the faction PPO Igor Kononenko, who is known as one of the main candidates for the post of Chairman of the Odessa regional state administration, said that it plans to submit documents to the competition for the election of the Governor of Odessa region.
He said this broadcast "112 Ukraine".
He noted that while the proposal to hold the office of Chairman of RSA has not been received.
"We have a law on the state service, according to which the position of the head of administration is elected in the contest that must take place in three stages… I Can say that I do not plan to apply for the competition", – said Kononenko.
"If Saakashvili does not change the position, there is a certain procedure according to which it must present a government approved at the meeting and sent to the President. And the final decision of Poroshenko. Yet of these three factors, we have only one announced", – said Kononenko.
See also: Groisman take under personal control the situation in the Odessa region after the resignation of Saakashvili
Recall, today, November 7, Saakashvili announced his resignation. He stressed that President of Ukraine Petro Poroshenko does not adhere to their promises and the presidential Administration is promoting in place of heads of district administrations of the old corrupt. Saakashvili is not going to leave the city through "their business".
President of Ukraine Petro Poroshenko signed the resignation of the head of the Odessa region Mikheil Saakashvili, if the corresponding address will come from the Cabinet.
The Cabinet of Ministers is ready to negotiate the resignation of the Chairman of the Odessa regional state administration of Mikheil Saakashvili. Documents with a letter of resignation had not been reported to the Cabinet. When they arrive, and if Mikheil Saakashvili will not change your mind, the government is prepared to give its consent, but the decision on dismissal from the post of Chairman of regional state administration is the prerogative of the President.
Odessa deputies commented on the resignation of President Mikheil Saakashvili
TSN. 19:30
Yesterday, 19:50
Add to favourites
The head of Odessa Gennady Trukhanov declared that the conflict he had with the Governor was not, because "this is a person, who himself creates the conflict". The same opinion and Urban Anatoly, the Chairman of the Odessa regional Council.
Comments
comments