Updated Declaration. Melnychuk left trillion hryvnia, on disappeared a gift from St. Nicholas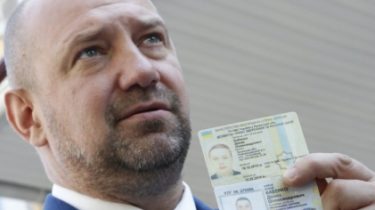 Updated Declaration. Melnychuk left trillion hryvnia, on disappeared a gift from St. Nicholas
© UNIAN
Poroshenko found another two million.
This Sunday, November 6, expired 7-day period, during which Ukrainian officials could amend or clarify their electronic declarations.
The President of Ukraine Petro Poroshenko additionally stated that had an income of 1.9 million UAH. This writes the "Word and deed".
The Minister of agrarian policy and food of Ukraine Taras Kutovoy said that the value of the securities is not 60 thousand UAH, and 220 times more – 13 million 250 thousand
The Minister of internal Affairs Arsen Avakov flat "expanded" from 39.3 per square meter to 55.4. But did not correct his earlier declared a joke regarding the copyright to "the Script in the form of a backpack, with newspaper clippings".
The people's Deputy Vladimir parasiuk who disappeared a gift from Saint Nicholas – watch Samsung Gear s2. Now that's a gift whose cost is RS 7999.
The MP Sergey Melnichuk , "floated" apartment of 65.1 sq. m 26,59 acres of land. But one trillion hryvnias cash Melnychuk and not corrected.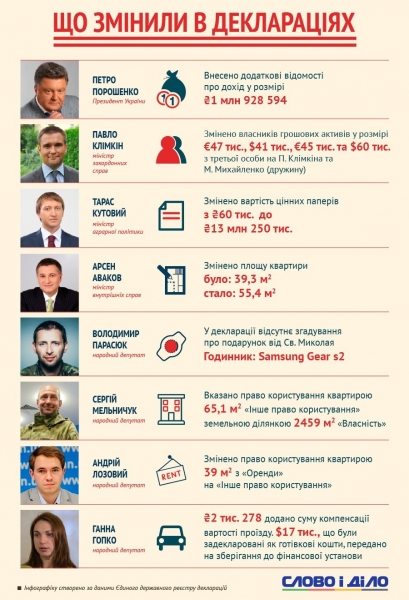 The word I Dilo
In politics or in business: in the pockets of MPs is more than UAH 12 billion
TSN. Week
6 Nov, 20:06
Add to favourites
Ukrainians still reeling from the information that fell on their heads along with the declarations of officials. And stunned not only the accumulation of luxury in a war-torn country. Indicative of those who responded came to the power from business. They suddenly saw the fortunes of others.
The treatment of Ukrainians in NABOO, NAPC and the GPU will launch the hundreds of auditing declarations by civil servants
TSN. Week
6 Nov, 20:45
Add to favourites
Today ends a 7-day period, who laid out for detecting errors and correcting them in electronic declarations. But tomorrow kicks off a big check for suspicious or just causing returns. We decided to speed up the process. And find out who, how and whom to test. And is afraid of all those whose millions, and other palaces of the declared good will be illegally acquired.
Comments
comments