Blow The Trump. Ukrainian Eurobonds began to rapidly fall in price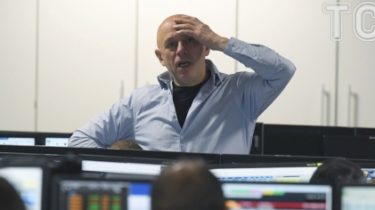 Blow The Trump. Ukrainian Eurobonds began to rapidly fall in price
© Reuters
Securities fell by two and a half percent more.
After the news about the victory of the Republican Donald trump in the presidential election in the US the global financial market reacted with the fall of key performance indicators, is losing ground to the dollar against its competitors. The trend has affected Ukrainian Eurobonds, which already lost 2.5% and more.
In particular, we are talking about sovereign Eurobonds maturing in September 2023. Their price fell by 2.65 points to of 95.35% of face value, the yield rose to 53.1 basis points to 8,666% per annum. Such data are cited by Bloomberg.
Also actively cheaper Eurobonds Ukraine-Ukraine 26-27, which quotations have fallen by 2.6 points – 93%, 93,25% of face value, respectively, as well as Eurobonds Ukraine-22 Ukraine-25 which fell by 2.5 points to of 95.95% and 94% of face value, respectively. The yield of all securities exceeded the 8.6% per annum. About it writes "Interfax-Ukraine".
Fluctuations in global financial markets , there will be a few more months, until the inauguration of the trump 20 January 2017, and maybe longer. Business should understand what will be the policy of the newly elected President of the United States and how it will affect international financial flows, production, trade, and the like.
Comments
comments