Ukraine may not receive this year a new loan from the IMF – Gontareva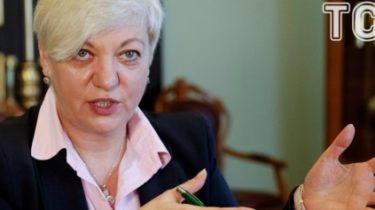 Ukraine may not receive this year a new loan from the IMF – Gontareva
© Reuters
NBU calls the reason for the delay parliamentary approval of the necessary laws.
Until the end of 2016 Ukraine, most likely, will not receive from the International monetary Fund next tranche of the loan of 1.3 billion U.S. dollars. The reason for the delay of the Verkhovna Rada with the necessary to continue cooperation laws to continue reforms. In particular, we are talking about the introduction of agricultural land market and pension reform.
In an interview with Reuters, said national Bank Chairman Valery Gontareva.
"There are risks that we will not be able to get it (loan) this year", – said Gontareva.
Now the gold reserves of the NBU total of 15.5 billion dollars. The regulator previously predicted that the end of the year they should reach $ 17.5 billion. No loan from the IMF – did not fulfill this plan. Another 600 million euros promised by the European Union. But, most likely, the money from EU will come in early 2017.
Next year Ukraine should pay $ 2.5 billion – coupon bonds and to repay earlier loans.
"We will see how our reserves will begin to melt before our eyes. Our last two and a half years of work to stabilize the situation, the increase in reserves, macroeconomic stabilization, will start to evaporate," said Gontareva.
Chairman of the national Bank assured that the regulator has fulfilled all obligations to the IMF, in particular, to clean up the banking system.
"The Central Bank is responsible for its territory. Sorry, we can't do pension and land reforms, and the like. I don't want anybody doubted that to ensure financial stability it is important to continue cooperation with the IMF and our other partners," – said Gontareva.
Regarding allegations of "sources" that circulate the media about the nationalization of "PrivatBank", Gontareva is not confirmed.
"PrivatBank" great, so checking is going on there at the moment", – said the Chairman of the national Bank and refused to talk about the details.
Most of the 18 largest Ukrainian banks as of September, had fulfilled the mandatory capitalization. At the same time in September "PrivatBank" has paid 1 billion 45 million UAH on account of repayment of refinancing loans of the NBU.
Recall that in the last two and a half years in Ukraine declared insolvent more than 80 banks.
Earlier, Gontareva told about economic forecasts and what are the positive of the "bursting" of the banks.
Comments
comments