Husbands of pregnant daughters Yarosh fighting in the Donbass – Filatov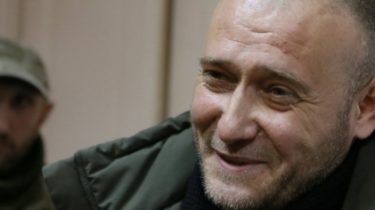 Husbands of pregnant daughters Yarosh fighting in the Donbass – Filatov
© UNIAN
One of the deputies Yarosh located in Avdeevka.
The people's Deputy Dmitry Yarosh sent both his sons-in-law in the zone of the antiterrorist operation. This was stated by the mayor of the Dnieper Boris Filatov, writes "Ukrainian truth".
During a conversation with journalists the head of the city a man called and passed the request of the son-in-law Yarosh Vladimir Noise to allocate money for the funeral of the deceased in the ATO strongman.
See also: jarosz explained why "walking" meeting of the Verkhovna Rada
He added that the MP pregnant two daughters and their husbands are in the Donbas.
"Volodya is Dmitry Yarosh, the younger son, Vladimir Noise recently on Irc (the politician's daughter – Ed.) married. In Avdeevka fighting. Yarosh only able to send two of his sons-in-law to the war in the presence of the pregnant daughters, the mayor said.
Later, Filatov promised to Yarosh-in-law to arrange the funeral of a soldier.
Yarosh have two daughters, Irina and Anastasia, and son Dmitry.
We will remind, earlier people's Deputy Dmitry Yarosh joked the fighter ATO and asked whether he will take in his unit, his colleague in the Verkhovna Rada of Hope Savchenko.
He added that the Ukrainian soldiers of the volunteer army at the front would like to see Savchenko in the ranks of their units.
Comments
comments