Kolomoisky said he did not comment on Saakashvili's resignation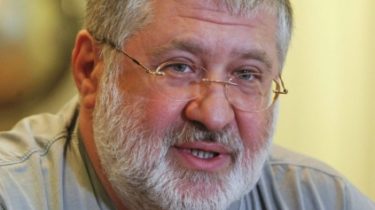 Kolomoisky said he did not comment on Saakashvili's resignation
© Reuters
A comment that appeared in the media, the businessman called a fake.
Businessman Igor Kolomoisky has denied reports that he allegedly commented on the resignation of the Chairman of the Odessa regional state administration of Mikheil Saakashvili.
"I did not give any comments on this topic and I remind you that I have no pages in social networks, and my comments are published on the websites of TSN.news Agency and the UNIAN", – he said to TSN.ia.
Earlier on Tuesday, November 8, the edition "Crime.is not present" reported that Kolomoisky, allegedly supported the decision of Mikheil Saakashvili to resign.
See also: the AP claimed that he had planned to dismiss Saakashvili even in the summer
Recall, November 7, Saakashvili announced his resignation. He stressed that President of Ukraine Petro Poroshenko does not adhere to their promises and the presidential Administration is promoting in place of heads of district administrations of the old corrupt. Saakashvili is not going to leave the city because of "his works."
President of Ukraine Petro Poroshenko signed the resignation of the head of the Odessa region Mikheil Saakashvili, if the corresponding address will come from the Cabinet.
In the administration of the President of Ukraine Petro Poroshenko discussed several candidates for the position of Governor of the Odessa region after the resignation of Saakashvili. Discussed the possibility of appointing someone from the former heads of the Odessa regional state administration. Also on Bank discuss candidature Anatoly Urban, who is the head of Odessa regional Rada and is a member of the BPP. Another possible candidate – the first Deputy head of the presidential Administration Vitaliy Kovalchuk. At the same time, the sources deny the possibility of the appointment of Igor Kononenko.
Prime Minister of Ukraine Volodymyr Hroisman has said that will take under personal control the situation in Odessa region after the resignation of Saakashvili.
The conflict between Poroshenko and Saakashvili is gaining momentum
TSN. 16:45
Yesterday, 17:10
Add to favourites
While in Slovenia, the President sarcastically commented on the decision of Saakashvili to resign from the post of Chairman of the Odessa regional state administration, stating that after the defeat of his party in the elections in Georgia, he decided to enter politics in Ukraine. Saakashvili is thanked Poroshenko for Ukrainian citizenship and said, "Everyone will have to get used to, that I am a Ukrainian politician and will win victory, or suffer defeat not in Georgia and in Ukraine".
Comments
comments