Trump continues to lead in 28 States in the presidential election in the United States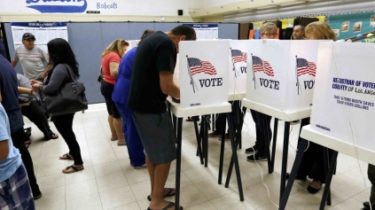 Trump continues to lead in 28 States in the presidential election in the United States
© Reuters
None of the opponents will not be able to make the Republican a serious competition in Kentucky, Indiana, West Virginia, South Carolina, Arkansas.
Republican Donald trump's virtually guaranteed a victory on presidential electionin 28 States of the USA. Such estimates were prepared on the basis of exit polls and preliminary data of counting of votes and presented a number of local media.
In particular, trump got the victory in such key States as Florida, Ohio and North Carolina. Clinton, in turn, won voters in Nevada, Virginia and Colorado, and California, reports Associated Press.
According to recent reports, trump is likely to win in Pennsylvania. Now the Republican 244 votes to 215 votes for Clinton.
To win, a candidate must have 270 votes of the electoral College. The number of electors in each state equals the number of members of the house of representatives and senators.
Thus, the electoral College consists of 538 people, including three representatives of the district of Columbia.
See also: the value of the dollar, the Mexican peso and stocks fell because of information about leadership trump in the election
Earlier it was reported that Republican Donald trump is leading in the electoral votes won at the presidential elections in the United States. The evaluation of the relevant analytical resource Real Clear Politics, he scored 169 votes in the electoral College, Democrat Hillary Clinton – 131 vote.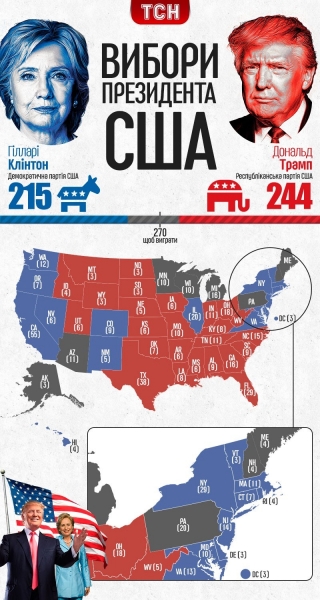 TSN.ua
The Ukrainian question was one of the points of the extensive political program of the Clinton and trump
TSN. Pdsmi day
Yesterday, 23:57
Add to favourites
Sensationally a lot of attention in the American election focused on the Ukraine. Talk about it, both candidates for the presidency, the Ukrainian question, as the attitude to Russia is part of a wider political program and Clinton and trump.
Comments
comments