Diplomats spoke about the benefits for Ukraine under the presidency of trump in the US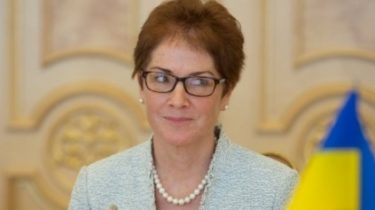 Diplomats spoke about the benefits for Ukraine under the presidency of trump in the US
U.S. Ambassador to Ukraine, Marie Yovanovitch© UNIAN
The US Ambassador assured the continued support by the States of Ukraine.
Regardless of who becomes the new President of the USA – Donald trump (who is leading) or Hillary Clinton – the United States will continue to support Ukraine.
On this day, November 9, said the US Ambassador to Ukraine, Marie Yovanovitch, writes "Ukrainian truth".
"I'm sure no matter who is to be our commander in chief, in the transition period between administrations and with the new administration, the United States will be a powerful partner of Ukraine. Both parties have the support of Ukrainian sovereignty and territorial integrity. I'm sure we will continue", – said Jovanovic.
Meanwhile, the Ambassador of Ukraine to the United States Valeriy Chaly in broadcast channel News One has said that Ukraine has good chances for the support of the us Congress, provided the winning trump.
"We have a lot of questions that need to be considered for Ukraine in the Congress. Am pleased to report that we already know… all those congressmen and senators – Republicans and Democrats – who clearly expressed support for Ukraine, now they win in their districts," stated Chaly.
It is these facts and beneficial to Kiev – because Ukraine will have support during the voting laws in Congress.
"If it comes, for example, trump, these processes will go faster… I'm optimistic about the situation, because the administration that departs from the current work, looks at a few other priorities. And new policies that come looking in the future", – said the Ambassador of Ukraine to the United States.
Meanwhile, the news of the victory trump fall of the global financial markets, dollar, oil prices, and gold is expensive.
Comments
comments