U.S. elections: trump leads in electoral votes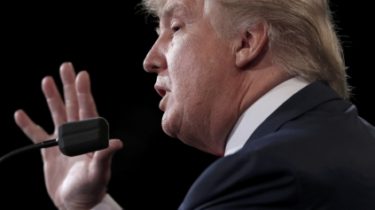 U.S. elections: trump leads in electoral votes
© Reuters
A Republican, received 169 votes of the electoral College of 270 necessary for victory, his opponent Hillary Clinton – 131 vote.
Republican Donald trump is leading in the electoral votes won at the presidential elections in the United States. The evaluation of the relevant analytical resource Real Clear Politics, he scored 169 votes in the electoral College, Democrat Hillary Clinton – 131 vote. Just to win it is necessary to enlist the support of 270 electors, writes TASS.
Already summing up the results of the elections in the East, the South and the Midwest. Voting continues in the United States West coast.
Democrat Hillary Clinton wins in Vermont, Virginia, Delaware, Illinois, Connecticut, Massachusetts, Maryland, new Jersey, new Mexico, new York, Rhode island and the district of Columbia. She is also leading in Iowa, Pennsylvania, Colorado, Minnesota.
Republican Donald trump prevails in Alabama, Arkansas, Wyoming, West Virginia, Indiana, Kansas, Kentucky, Louisiana, Mississippi, Missouri, Montana, Nebraska, Oklahoma, North Dakota, Tennessee, Texas, South Dakota and South Carolina. He also is the leader in Arizona. All of the above States four years ago similarly divided between Democrats and Republicans.
The votes are counted and the key "controversial" States. According to the same estimates, trump is very close to the victory in the main of them – Florida. There he is now ahead of the opponent in the ratio of 49.2% to 47.7% of the votes. It is estimated 99% of the ballots. He's already won another key state is Ohio.
Four years ago, there was incumbent President of the country Barack Obama so that's a big success a Republican.
Trump is leading in North Carolina, Georgia, Wisconsin, new Hampshire and Michigan. If he wins Wisconsin, new Hampshire and Michigan, this will be his major success, as in 2012, these States also added to the Bank of Obama.
See also: the value of the dollar, the Mexican peso and stocks fell because of information about leadership trump in the election
Recall that the price of oil fell amid the publicity of the first data on the counting of votes on elections in the United States. This is evidenced by the auction.
Brooding trump with his wife voted at the election of the President of the United States
Policy
Today, 05:58
1 of 8

© Reuters

1 of 8

© Reuters

1 of 8

© Reuters

1 of 8

© Reuters

1 of 8

© Reuters

1 of 8

© Reuters

1 of 8

© Reuters

1 of 8

© Reuters
© Reuters

© Reuters

© Reuters

© Reuters

© Reuters

© Reuters

© Reuters

© Reuters
The Ukrainian question was one of the points of the extensive political program of the Clinton and trump
TSN. Pdsmi day
Yesterday, 23:57
Add to favourites
Sensationally a lot of attention in the American election focused on the Ukraine. Talk about it, both candidates for the presidency, the Ukrainian question, as the attitude to Russia is part of a wider political program and Clinton and trump.
Comments
comments