Ukraine submitted to the UN a draft resolution on the Crimea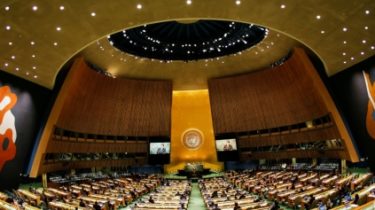 Ukraine submitted to the UN a draft resolution on the Crimea
© Reuters
The draft resolution was submitted by Ukraine with the support of 38 countries.
Ukraine presented to the UN a draft resolution on human rights in Crimea, urging the Russian authorities to provide international observers access to the organization on the Peninsula. About it reports Agence France Presse.
The document condemns discrimination in Crimea, calls on Russia to take all necessary measures to immediately put an end to all violations against residents of Crimea and to cooperate with the UN office for human rights, which relies on the preparation of the report on the situation on the Peninsula.
In addition, the document urges Russia to reconsider the decision to ban the Mejlis of the Crimean Tatar people.
According to the Agency, the draft resolution was submitted by Ukraine with the support of 38 countries, including the US, UK and France.
"The main goal of the resolution is to call upon the Russian Federation to ensure full compliance with its obligations as an occupying power under international law, and to ensure safe and unhindered access for the international framework for human rights in the temporarily occupied the Peninsula in order to monitor and report the situation in accordance with their mandate," reads the statement of mission of Ukraine to the UN.
See also: the EU agreed to impose new sanctions due to the annexation of Crimea – Reuters
We will remind that earlier the President of Russia Vladimir Putin said that Russia annexed the Crimea as "independent state" and demanded not to provoke Russia.
"In Crimea there was no war, no bombing, military operations, no casualties, no one was killed (but in the course of annexation were killed two Ukrainian soldiers -ed). The only thing we did was ensure the people's right to expression in full compliance with the UN Charter," – said Putin.
Comments
comments