In the Donetsk region "covered" interregional conversion center with a turnover of 300 million hryvnia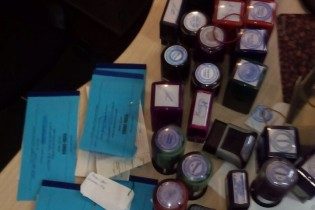 In the Donetsk region "covered" interregional conversion center with a turnover of 300 million hryvnia
© Press service of the GPU
Office space "envelope" were in Kiev and Slavyansk.
Wednesday, November 9, in the Donetsk region eliminated interregional conversion center with a turnover of 300 million hryvnia.
It is reported by the GPU.
Part of the "envelope" included three active participants, and a number of associates, on which were registered the fictitious enterprises.
Office space of the center was located in Kiev and Slavyansk, Donetsk region.
The attackers were working with the real sector of the economy, was in Donetsk, Kyiv, Kirovohrad, Poltava and other areas.
"Envelope" provided services to minimize tax payments schemes available.
After the purchase from private individuals agricultural products grown in the area of ATO and purchased for cash, these businesses addressed to fictitious companies, which have received the relevant documentation and, therefore, legalized the production, which is subsequently sold to grain traders.
Through the accounts of fictitious companies was carried out to convert funds into cash.
As a result of the searches, found and seized 260 tons of agricultural products at 1.2 million, 15 stamps of fictitious companies, computers and draft records.
Currently, the arrest of the accounts and the investigation continues.
See photos: In the Donetsk region abolished the conversion center, which involved tax
We will remind, in Odessa eliminated organized by the Russian conversion center with a million turnover. Law enforcement authorities established that the "envelope" acted under the guise of legitimate businesses. Clients envelope was the number of companies from various sectors of the economy. Organizers provided services to customers for transfer of funds in cash by carrying out the bestovarnykh finoperatsy.
Comments
comments