Poltava judge lives in a huge house in the form of the Church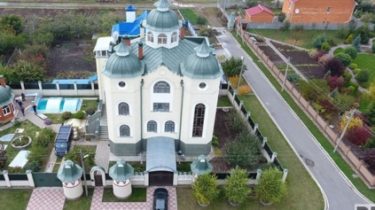 Poltava judge lives in a huge house in the form of the Church
© blog.prosud.info
If this Declaration the official pointed out that the family lives on a judicial salary.
The Deputy head of appellate court of Poltava region Sergey Galyonkin has the biggest declared among the judges of the field house area is 661 square meters.
This is stated in the investigation Prosud.
Read also: IMF suspected Ukrainian officials in the concealment of property from the e-Declaration is the head of the NACP
"On the question of where funds for such a building, have a classic answer: "he Helped his wife and parents…" And here, according to the Declaration, at least the last three years the main income of the family – the salary of a judge", – stated in the material.
The house is located in the suburbs of Poltava and resembles a Church.
The total amount of income that the Galyonkin indicated in the Declaration – 269 802 UAH (most of the money is salary), family – 084 68 UAH. The main income of the wife of judge Galankina over the last two years are the funds received from the lease of the property, obviously the apartment, in the amount of 60 thousand UAH a year. Sergei's wife Galankina is a private notary, however, the last time the income from entrepreneurial and independent professional activity referred to in the Declaration of Mr. Galankina for 2013.
Thus, according to the Declaration Galankina at least the last three years, it their salaries were the main income of the family. Regarding real estate, the house in the village Rossoshentsy near Poltava was first mentioned in the Declaration of the judge for 2014, according to the state registry of property rights registered in February 2015. At the same time, according to the pictures Google Earth, the house is built in 2007, and in the pictures the 2011 territory is located almost in the same form as in 2014.
See also: Heavyweight e-declaring Constantine showed his mansion in Koncha Zaspa
And galyonkin has a land size of 30 acres in the village Dudnykove Poltava region, was in 2015. On the neighbouring plot has a house area of 245 square meters, which belongs to the wife of the judge. Was the house of Elena Vasilevny in January 2015.
Reporters found that giving judges Galankina located near a pine forest on 9 units of country cooperative "dawn" and consists of 4 residential houses. Built in Dudnykove family started even before 2013. In the media claim that the land area considerably exceeds the area provided for soldering dacha cooperative. All the plots owned by the family of Sergey Galyonkin, was alienated from the wearing of the cooperative to private ownership. The family also owns an apartment and two offices in Poltava and accommodation in Kiev. The latter belong to the mother-judge Sergey Galenkin: a woman bought an apartment already retired, at the age of 66 years.
Comments
comments