Pope Francis gathered more than ten million euros for the victims in the Donbass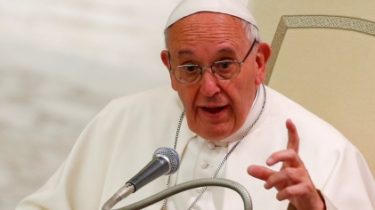 Pope Francis gathered more than ten million euros for the victims in the Donbass
© Reuters
Fundraising began in April.
Charity project of Pope Francis "a Pope for Ukraine" has collected more than ten million euros to support the victims of the war Ukrainians.
This is stated on the project website.
"At a time when little is said about the dramatic situation in Ukraine, the Pontiff said that his gesture specific support victims of war, which so far has collected more than 10 million euros, wants to be the first and foremost sign of Christian love, but also a gesture to someone who suffers, don't feel left out or neglected, and that the international community should not forget that it is his duty to make every effort to achieve peace in justice and solidarity", – stated in the message.
In particular, on Monday, 7 November, Pope Francis received in audience Archbishop Claudio Gugerotti, Apostolic Nuncio in Ukraine. Dad wanted to see the development of the situation in Ukraine and were informed about the implementation of the project "Daddy".
Pope Francis has said that Ukraine occupies a special place in his heart and that he prays every day to bring peace, comfort for those in most need and on the progress of the country.
The Pope announced the collection of donations for the needs of war victims in Ukraine, on 3 April 2016.
Read also: We are in a state of war because the lost world – the Pope
Recall that in the Vatican the Pope prayed for peace in Ukraine. During a mass in St. Peter's square, Pope Francis appealed to all Ukrainians and wished for a speedy end to the war.
Comments
comments