Ukraine and Moldova will connect the railroad to bypass Transnistria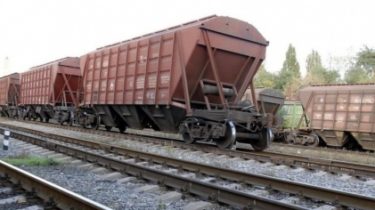 Ukraine and Moldova will connect the railroad to bypass Transnistria
© UNIAN
Overhaul 6-kilometer-long stretch of "Ukrzaliznytsya" plans to finish till the end of the year.
Until the end of 2016,"Ukrzaliznytsya" plans to complete the overhaul of the 6-km portion of the stretch in the area of Artsiz, Odessa region Berezino in the direction of Moldova.
This will allow you to connect the Railways of Ukraine and Moldova to bypass the unrecognized Transnistria and will allow almost halve the distance of the route. In "Odessa railroad" it is said that when the transportation of goods through land Artsyz-Basarabeasca in the direction of the port of Reni and Galati station decreases the distance that the trains on the territory of Moldova, – from 240 to 127 kilometers. Therefore, reducing the cost of transport on the territory of Moldova and, probably, will switch the traffic to the station "Berezino" (near Basarabeasca). This writes the "Centre of transport strategies".
See also: Omeljan wants to rename the Ministry of infrastructure, and along with his post
Repaired section of the road will also allow you to run passenger trains on the route Sochi-Basarabeasca-Reni, also bypassing Transnistria.
"At the same time the Moldavian party guarantees the reduction of tariffs in proportion to the reduction in the distance to reduce the total cost of transport on the territory of the two parties on the payback period," specified in "Odessa railroad".
Recall that the path from the station of Berezino in the tarutinsky district of Odessa region to Basarabeasca (Moldova) completely dismantled in 1997. Partially preserved only the embankment and several bridges, however, perhaps they're not, because the gravel Foundation under the tracks was actively carried off by local residents on building materials.
Earlier the Minister of infrastructure Vladimir Omelian in an interview to TSN said that the process of adaptation of the head of "Ukrzaliznytsya" has been much delayed.
Comments
comments