"Who is Mr. Trump?": in "Right to Vlad," will discuss U.S. elections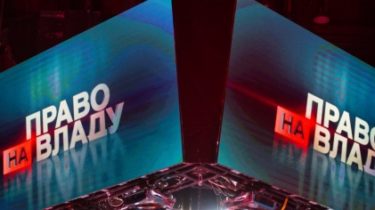 "Who is Mr. Trump?": in "Right to Vlad," will discuss U.S. elections
© press service of the channel "1+1"
Experts try to explain the change of US policy towards Ukraine.
Today, 10 November at 23:00 in the socio-political talk show "Right to Vlad," guests, politicians and experts in the Studio to discuss the victory of Donald trump and his importance for Ukraine.
The presidential candidate from the Republican party, the billionaire and the man who has a shady reputation, Donald trump, contrary to most predictions, won the elections in the United States. This choice has stirred the entire world community. Although trump will assume the office of President of the United States early next year, now guests and experts in the Studio talk show "Right to Vlad," will analyze the recent pre-election statements regarding Donald trump Putin's policies and will attempt to answer the main question – will US policy towards Ukraine.
This was in the Studio of "Right to Vlad," they will say: Oksana Syroyid, Deputy Chairman of the Verkhovna Rada of Ukraine, Taras Batenko, MP, Chairman of the political Council of the party "Ukrainian Union of patriots – DILL", Volodymyr Ohryzko, diplomat, Minister of foreign Affairs of Ukraine 2007-2009. Leonid Kozhara, politician, diplomat, Minister of foreign Affairs of Ukraine, 2012-2014. experts: political scientist Peter oleschuk, Ekaterina Odarchenko, the strategist, the founder of "SIC Group Ukraine", Serhiy Fomenko, leader of the band "Mandry"
Also in direct contact with the Studio in the discussion will participate: Valery Chaly, Ambassador extraordinary and Plenipotentiary of Ukraine in USA and Adrian Karatnycky, senior fellow at the Atlantic Council, as well as journalists, politicians and senators.
Your questions the viewers may ask on the project's website http://pravonavladu.tsn.ua/
"The right to Vlad" goes live 1+1 TV channel every Thursday at 23:00.
Leading the talk show "Right to Vlad," – Natalia Moseychuk and Sergei Ivanov.
The audience in the Studio – this is a sociological sample from all over Ukraine. Together with experts they can respond to the discussion in the Studio, voting and answering the questions posed at the beginning of the program.
See also: trump and Obama met at the White house
We will remind, the candidate of the Republican party, Donald trump won a victory on elections of the President of the United States. For his candidacy voted 47.5% of the voters. The electors gave early for Republican 290 votes. Democrat Hillary Clinton scored 47,7% of the 232 electoral votes. Clinton conceded defeat in the elections.
Comments
comments