Factory "Roshen" is still not demolished the monument to Marx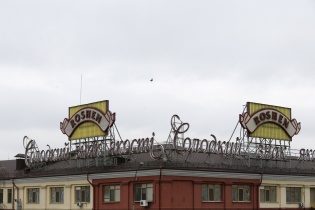 Factory "Roshen" is still not demolished the monument to Marx
© Reuters
The factory is asked to comply with the requirements of the law on decommunization.
Kiev confectionery factory "Roshen" is still not dismantled the monument to Karl Marx, which is installed on its territory.
This is stated on the website of the Ukrainian Institute of national memory.
"The Ukrainian Institute of national memory the second time sent a letter to the leadership of the Kiev confectionary factory "Roshen", which is reminiscent of the requirement to dismantle the monument to Karl Marx on its territory, in accordance with the Law of Ukraine", – stated in the message.
The Institute stresses that the doctrine of "Marxism" became the basis for the adoption of the Communist totalitarian regimes in Ukraine and other Eastern European countries.
"Active memorialization of the founders of the Communist ideology of Karl Marx and Friedrich Engels (in particular, by establishing a mass in their honor monuments) was an important component of the propaganda of the Secretariat of the CPSU Central Committee of the Communist totalitarian regime," – said the Institute.
Therefore, under the law, the monument to Marx on the territory of the factory is the symbols of the Communist totalitarian regime and is subject to mandatory removal.
The Institute sent the first appeal on September 25 2015, but, unfortunately, the official response is still not received.
Informed confectionery factory was named Marx.
See photos: In occupied Sudak unknown persons threw a monument to Lenin
We will remind, in October in Chernihiv demolished the last of Lenin. In particular, in the city of Novgorod-Seversky Chernihiv demolished the last monument to Lenin in the region. As assured in the state administration, the monument to the leader left except someone at home.
Comments
comments