In Myanmar fell from the sky unidentified metal object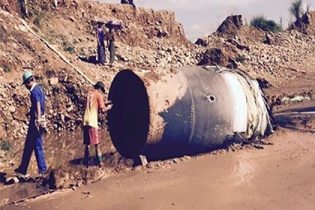 In Myanmar fell from the sky unidentified metal object
© Yannaing Aung Pyi Sone
The debris may have been associated with the launch of a Chinese satellite.
In the North, Myanmar to the quarry, which produces jade, fell from the sky a large metal unidentified object.
About it writes BBC.Ukraine.
The length of the object is 4.5 m long and 1.2 m wide. It was discovered on Thursday in Kachin state. Almost simultaneously, another piece of metal with inscription in Chinese broke the roof of the neighboring house, but, fortunately, has done without victims and victims.
The debris can be associated with the launch of the Chinese experimental satellite, "pulsar", which the carrier rocket "Changzheng-11" launched in the night of Thursday. But while to identify the object failed.
The object flew from the sky, after hitting the ground bounced at 50 meters, and then fell into a quarry. Locals told us that he heard a loud sound similar to a blast near the object felt pungent smell.
See also: American teenagers stole from the UFO Museum
We will remind that earlier in Russia fell from the sky and exploded an unknown object. The explosion damaged the house he bent roof, chimney, partially collapsed oven. The house fell off shelves.
Comments
comments