In "Oshchadbank" froze more than a billion dollars Yanukovych and Azarov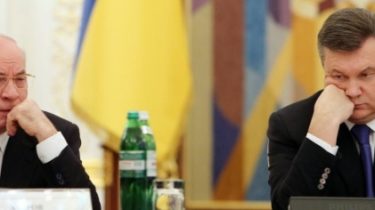 In "Oshchadbank" froze more than a billion dollars Yanukovych and Azarov
© UNIAN
Assets are in cash accounts and in securities.
In the state "Oshchadbank" are 1.15 billion dollars of fugitive ex-President Viktor Yanukovych and former Prime Minister Mykola Azarov.
In an interview with LB.ua said the Chairman of "Sberbank" Andrey Lush.
"A very significant amount. More than one billion 150 million dollars. I can't do some things to comment on in the strength of Bank secrecy. And please take this into account. This is a strict requirement of the law, and the law above all else. Some things can, and would like to tell you, but I can't. The total amount is already known. Clean "cash" in the accounts, and assets in securities," said Lush.
We will remind, this year the state budget was supposed to go to 50 billion UAH from the special confiscation of fundsthat were stolen from the budget representatives of the previous government. However, the Parliament still has not passed a law to transfer these funds to the state budget.
Comments
comments