New Deputy Avakov worked as the head of the foreign Ministry at the time of Yanukovych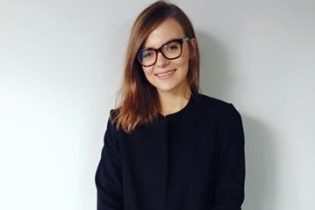 New Deputy Avakov worked as the head of the foreign Ministry at the time of Yanukovych
© Radio Aristocrats
Anastasia Deeva began his career while still a student of KIMO.
A former MP and ex-Minister of foreign Affairs Leonid Kozhara told TSN on 24-year-old Anastasia Deev, the new assistant to the interior Minister Arsen Avakov.
Until the recent married Anastasia bore the name Shmalko and started his political career from the post of assistant Kozhara in the Verkhovna Rada.
See also: Dekanoidze has responded to protests against the new head of police Cherkassy region
According to the former Minister, he took Deyev to work on the recommendation of one of his assistants and was pleased with her.
"She's an Executive. I have a helper the main requirement is the knowledge of foreign languages, because I worked in the foreign Affairs Committee, and it was important for me," – said the former official, noting that Anastasia has performed the work of the office Manager, was going through his mail.
TSN.ia has received exclusive photos and videos from the wedding new 24-year-old assistant Avakov
Policy
Today, 13:04
1 of 3

© Dnia

1 of 3

© Dnia

1 of 3

© Dnia
In addition, after his appointment to the Cabinet of Ministers Kozhara took the girl with him to work in the Ministry. Deeva worked under contract part-time, because at that time I was a student, he studied at the KIMO.
The Ministry Deeva worked up to the resignation Kozhara in 2014.
Speaking about her new position, Kozhara expressed confidence that Deeva is worthy to occupy it. "Her experience and political and organizational work enough" – said the former Minister.
Arsen Avakov has a new 24-year-old assistant
TSN. Wounds
Today, 13:14
Add to favourites
To manage the issues of European integration in the Ministry of interior will now Anastasia Deeva. Girl in politics for a long time. Still a student at one of the programs was an Intern in the Verkhovna Rada of Ukraine. Worked with Leonid Kozhara and Eka Zguladze. Now Avakov legalized professional relationship with 24-year-old employee.
We recall that on 10 November it became known about the appointment of 24-year-old Anastasia Deev Deputy Minister of internal Affairs of Ukraine on European integration.
The Declaration Deev said that in 2015 she received 4387 UAH revenues, of which 4380 amounted to UAH scholarship, 7 UAH – dividends and interest. In addition, she pointed out 24 373 dollars of income earned abroad. According to "Ukrainian news", before moving to Ukraine Deeva lived in Stockholm, where, according to her, engaged in green technologies.
Comments
comments