Russia plans large-scale destabilization in Kiev, the regions and the aggravation of the Donbas – SBU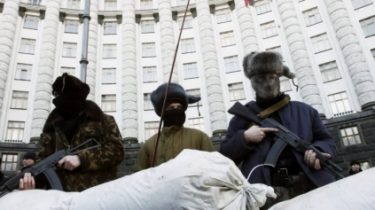 Russia plans large-scale destabilization in Kiev, the regions and the aggravation of the Donbas – SBU
© UNIAN
Provocation can begin as early as November 15.
Next Tuesday, November 15, in Kiev it is possible to hold the stock Bank depositors, and November 17 – protest action against increase of utility tariffs. These events now prepare special services of Russia to launch a full-scale destabilization in Ukraine. Together with events in the capital may try to destabilize the situation in the regions and in the Donets basin will unfold a full-scale war.
On this day, 11 November, said the head of the Department of protection of national statehood of the security Service of Ukraine Anatoly Dublin, UNIAN reports. Information about destabilize received from reconnaissance and from information taken from a mailbox adviser to the President of the Russian Federation Vladislav Surkov.
"Part of the plan is the strengthening (in the Donbass) voltage, bringing the intensity of attacks to the highest in a year level, provoking our troops to local military clashes. This trend is already clearly fixed on the line of contact," said Dublin.
He said that the purpose of the enemy – "to drive the Ukrainian government in the so-called "impasse" and conduct an offensive in two directions: outside – this is the Donbass, and inside, destabilization, using the difficult situation in the state."
Also in November-December the Russian and Pro-Russian provocateurs will try to "Wake" regions. They plan to hold several sessions of the regional councils, which under the slogans of decentralization will require the introduction of "the practice of contractual relations between the Cabinet of Ministers and local councils".
"As you know, a number of regional councils had already taken such decisions. The security service, in accordance with applicable law, reacted to such violations and resulting criminal proceedings", – said Dublin.
Procedural steps in these cases are still ongoing.
Read also: SBU has developed the plan of counteraction of Russia to destabilize Ukraine
Provocateurs also planned to conduct in the regions, fees and community forums, and then the final all-Ukrainian forum of local councils.
"The direct requirements of federalization is not expected. But the chosen strategy of "creeping erosion" of the Central government. To create the conditions in order to paralyze the Central government, knowing that the modification of the Constitution requires an appropriate time-defined long-making", – said the representative of the SBU.
In addition, orchestrated the protests and mass actions should provoke early parliamentary elections in Ukraine to bring to power Pro-Russian forces and change in foreign policy of the state.
Earlier, the Ukrainian hackers "Cyberhunt" stated that the alleged access and full control of the correspondence in the mail of the Russian presidential aide Vladislav Surkov.
They also laid out a"plan of action to destabilize the situation in Transcarpathia and providing the region a Federal status.
Comments
comments