The MP exposed the officials that embezzled 16 million UAH for the repair of roads in the Dnipropetrovsk region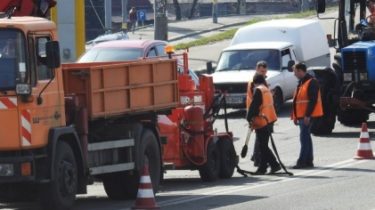 The MP exposed the officials that embezzled 16 million UAH for the repair of roads in the Dnipropetrovsk region
© UNIAN
In connection with a massive fraud officials to repair roads in Kamenskoye kupriy appealed to the Prosecutor General.
In the town of Kamenskoye (Dneprodzerzhinsk former) in Dnipropetrovsk region officials large-scale plunder of the budgetary funds allocated for repair of roads.
About this on his page in Facebook said the MP from the "Dill" Vitaliy kupriy.
"The Dnipropetrovsk disclosed large-scale embezzlement of budget funds on repairs of roads! Now the Prosecutor's office of Dnipropetrovsk region in the framework of investigation of criminal proceedings carries out a number of searches at the enterprises, which carry out repairs of roads for the budget bill", he said.
According to the Cupra, for the past year, multimillion-dollar tenders for road repair by simulation of the competition won the same firm PE "Segment."
"The total amount of funds that were received far exceeded a hundred million. Funds were allocated by the city Council of Kamensky, but most of them came from the Dnepropetrovsk regional state administration", – said the MP.
Kupriy also noted that local people massively complained about the poor maintenance of roads, in particular, violation of technology of the conclusion of the pavement, poor pavement in places where there is a tram track cracks in asphalt pavement and the like. In this regard, the MP decided to turn to Prosecutor General Yury Lutsenko.
"According to my information, the road maintenance contractors used bogus purchase of goods and services and was transferred in cash not less than 20% of the budget funds. Only one "purchase" of benzene, which is not even used in repairs work, the attackers "cashed out" 16 million hryvnia," – said kupriy, assuring that a large part of this money in kickbacks went back to the officials who carried out the tenders.
Separately, he also noted that in the investigation mention the names of top officials: Chairman of the Dnipropetrovsk regional state administration Valentine Reznichenko and Kamensky mayor Andrey Belousov.
We will remind, earlier in Cherkasy region exposed theft of public funds for the construction of roads. The attackers were able to assign more than one million hryvnias.
Comments
comments