The trucks will close the entrance to Kiev because of heavy snowfall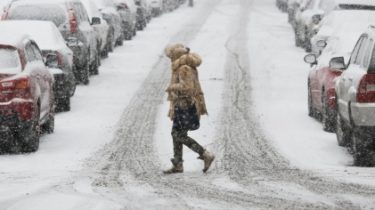 The trucks will close the entrance to Kiev because of heavy snowfall
© Reuters
According to weather forecasts, precipitation will continue Saturday night and Sunday.
Sunday and Monday, 13-14 November in Kyiv, it is expected heavy snowfall, in this regard, in the KSCA, it was decided to restrict the entry of trucks into the city and to strengthen control of traffic.
This was stated by the Deputy Chairman of the KCSA Petr Panteleyev, reports a press-service.
"Sunday will be closed the entrance to the capital of large vehicles. It is expected that snow cover will reach 27 see Therefore, we must ensure the rapid clean up the streets. If you want to restrict the entry of heavy vehicles in the city from 7 am till 13.00 on Sunday. Therefore, we appeal to drivers with a request to take this information into account when planning a route", – the press-service.
In KCSA is also requested not to use private car during a snowfall to avoid congestion and to give the opportunity to "Kievavtodor" promptly to clean the streets.
Panteleev directed the Hoo, "Kievzelenstroy", services improvement, and also provide cleaning.
"Also strongly suggest all balance of all forms of ownership provide cleaning on their territories. The penalty for dirty and deserted today is 1700 UAH", – he added.
See also: Winter is on the doorstep. Ukraine at the weekend will cover a 25-centimeter layer of snow
Recall, November 13, active cyclone will cause difficult weather conditions in Kyiv, Zhytomyr, Chernihiv, Sumy, Vinnytsia, Khmelnytskyi, Ternopil, Ivano-Frankivsk, Chernivtsi regions, warns gschs of Ukraine. In these areas expected heavy snowfall and blizzards, snow drifts, the formation of snow cover with a height of 15-25 cm, sleet sticking, on roads ice.
Comments
comments