The Ukrainian Consul was allowed to convicted political prisoners in Russia Kostenko and Vygovskogo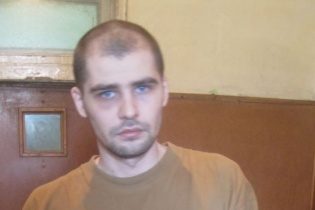 The Ukrainian Consul was allowed to convicted political prisoners in Russia Kostenko and Vygovskogo
Alexander Kostenko – one of Ukrainian political prisoners in Russian colonies.© Crimea.Realities
Ukrainians do not complain about the biased attitude of the prison administration.
November 8-9, the consuls of the Embassy of Ukraine in Russia was found with illegally convicted Russian Ukrainians Oleksandr Kostenko and Valentin Viewskim.
It is reported by the Department of consular service of the MFA of Ukraine
The meeting was held in a penal colony in Kirovo-Chepetsk, Kirov region of the Russian Federation. Ukrainian political prisoners was provided consular and legal and material assistance.
The foreign Ministry noted that Kostenko and Vygovskiy not complained about bias, or other illegal actions by the administration.
Read also: Ukraine asks Russia to extradite Ukrainian "spy" Vygovsky
"We will continue to take comprehensive measures regarding the other citizens of Ukraine, who illegally detained and sentenced in the territory of the Russian Federation", – stated in the message.
Let's remind, Valentin Vygovsky came to Russia in 2014, a Ukrainian accused of espionage. He allegedly gathered information about military aircraft of the Russian production. The case was classified as "top secret" and the trial was held behind closed doors. Vygovskogo was sentenced to 11 years of strict regime.
Activist Oleksandr Kostenko, the Russian government accuses that he is 18 February 2014 caused the injuries to the Crimean employee of "Berkut". During the arrest of the FSB officers broke his arm and now he could lose, because they do not receive proper treatment. In may 2015, "court" in occupied Simferopol sentenced Kostenko 4 years and 2 months in a General regime colony.
Convicted in Russia, the Ukrainian Vyhovsky can be released only under the scheme Savchenko
TSN. 19:30
3 Aug, 19:56
Add to favourites
The chances of a legal release of the convicted for "espionage" in Russia Valentin vygovskyy no. Lawyer Ilya Novikov is convinced a solution can be, as in the case of Gennady Afanasyev, Yuri Soloshenko and Hope Savchenko – by sharing, because Vyhovsky pleaded guilty.
A Russian court has refused to Alexander Kostenko in parole
TSN. Wounds
14 APR, 09:49
Add to favourites
The lawyer of political prisoner Crimean called the decision political, because before the trial the Ukrainian planted in a punishment cell for refusing to say Hello to a prison officer. Defender Kostenko promises to appeal the decision. The Ukrainian was sentenced to four years and two months behind bars, but later reduced his sentence to three and a half years.
Comments
comments