The US has informed the OSCE about the buildup of Russian troops in the occupied Crimea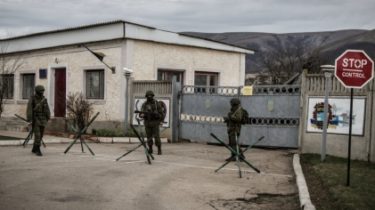 The US has informed the OSCE about the buildup of Russian troops in the occupied Crimea
© Getty Images
The Kremlin's expanding military base.
Russia continues to increase military power in the occupied Crimea, expanding military bases and restoring the old Soviet infrastructure.
This was stated at a meeting of the OSCE permanent Council in Vienna, the U.S. representative to the Organization, Ambassador Daniel Baier, writes "UKRINFORM".
According to him, this is the external build-up of troops on the Ukrainian Peninsula, "which occurs without the consent of Ukraine, violation of its sovereignty and territorial integrity."
The US representative also expressed deep concern about new cases of human rights violations in the Crimea. "This week, six Crimean Tatars were sent to forced psychiatric examination because of the protests against the Russian occupation," said Bayer. "We urge Russia to cease its practice of punitive psychiatry," – said the representative of the United States.
See also: Ukraine submitted to the UN a draft resolution on the Crimea
He stressed that Crimea-related sanctions against Russia stay in effect until it ceases its occupation of the Peninsula.
Comments
comments