In Kiev, there was a large-scale accident with a pursuit and shooting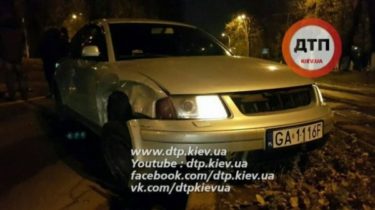 In Kiev, there was a large-scale accident with a pursuit and shooting
Kiev
Yesterday, 22:07
1 of 16

© dtp.kiev.ua

1 of 16

© dtp.kiev.ua

1 of 16

© dtp.kiev.ua

1 of 16

© dtp.kiev.ua

1 of 16

© dtp.kiev.ua

1 of 16

© dtp.kiev.ua

1 of 16

© dtp.kiev.ua

1 of 16

© dtp.kiev.ua

1 of 16

© dtp.kiev.ua

1 of 16

© dtp.kiev.ua

1 of 16

© dtp.kiev.ua

1 of 16

© dtp.kiev.ua

1 of 16

© dtp.kiev.ua

1 of 16

© dtp.kiev.ua

1 of 16

© dtp.kiev.ua

1 of 16

© dtp.kiev.ua
© dtp.kiev.ua

© dtp.kiev.ua

© dtp.kiev.ua

© dtp.kiev.ua

© dtp.kiev.ua

© dtp.kiev.ua

© dtp.kiev.ua

© dtp.kiev.ua

© dtp.kiev.ua

© dtp.kiev.ua

© dtp.kiev.ua

© dtp.kiev.ua

© dtp.kiev.ua

© dtp.kiev.ua

© dtp.kiev.ua

© dtp.kiev.ua
Smashed four cars.
In Kiev, there was a large-scale accident with chase.
This was reported in the group dtp.kiev.ua in Facebook.
Because of the accident smashed four cars, injured a police officer. The driver of a Volkswagen Passat, evading police officers, drove into the oncoming lane, hit Daewoo, Skoda, Hyundai, crashed into a curb and tried to escape but was detained.
For a few moments before while attempting to arrest the driver of the Volkswagen Passat has moved the police and received two bullets from trauma to the back of the car. On a place works operatively-an investigation team.
See photos: Massive crash in Kherson: in the city center faced three cars and trolley
We will remind, large road accident has occurred in Kiev. In Darnytsya bridge faced more than 10 cars, which formed emergency "train".
Comments
comments