Dollar recovers after winning trump. Forecast currency exchange rates in Ukraine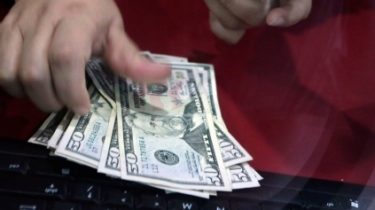 Dollar recovers after winning trump. Forecast currency exchange rates in Ukraine
© Reuters
The Euro fell in the Ukrainian exchange.
During the week in the Ukrainian exchange has risen in price dollar. Even last Sunday he was worth 26,25 UAH. Now – was 26.70 UAH. This reaction to the victory of Republican Donald trump for the presidential elections in the United States.
The Euro, on the contrary, becomes cheaper: minus 30 cents for the week at 29.25 of 28.95 UAH to UAH. Experts say that in the world markets, the European currency began to fall a week ago. That trend has come to Ukraine. This is stated in the plot of TSN.Week.
"Cash hryvnia (next week) will vary between 26-27. The hryvnia depreciated due to panic about the unexpected for the population of the election results in the United States. But on the interbank market non-cash hryvnya remained relatively stable, so we believe that by the end of the week the panic will stop," – says chief financial analyst of the Agency "Expert Rating" Vitaly Shapran and stubbornly insists that the reasons for no fuss.
So, the dollar leap is artificial and temporary. The expert says that the Ukrainian steel grows in the price, so objectively no reason to be nervous not.
But Elena Korobkova with the Independent banking Association has a counter.
"The currency corridor will be in the range of 26.30-27,20 hryvnia. Factors that put pressure on the hryvnia, is that last Friday, the United States was the output and payments in dollars are not carried out. So the week we'll start with the dual of the demand for currency and that puts pressure on the hryvnia. Well, it is already clear that on Tuesday when we should get the IMF tranche, it will not, and this adversely affects the course," explains Korobkova.
Thermometer exchange: the movement of the dollar and the relation between the quality and prices of dairy products
TSN. Week
Yesterday, 20:28
Add to favourites
Over the past week, the dollar rose and the Euro conversely fell. Financial analyst Vitaly Shapran analyzes the situation and says that the reasons for no fuss. Public activists conducted a review on the quality of Ukrainian dairy products, which found that almost 40% of the information given on the packages of butter, cream and cheese, untrue. Ukrainians urged to be vigilant and to trust known brands.
Comments
comments