In KSCA announced the resumption of the movement of trucks in Kiev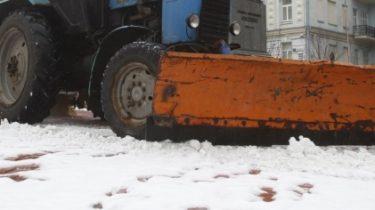 In KSCA announced the resumption of the movement of trucks in Kiev
© UNIAN
In the capital continue to clear highways and bridges, covered with snow.
In Kiev, regained the movement of large vehicles.
This was stated by the chief of staff of the KSCA Vladimir Bondarenko during a briefing.
"As of now the situation in Kiev is relatively traffic – 2 points. Despite the fact that in the morning it was 6 points, we can note a certain improvement of the situation," he said.
According to Bondarenko, a day dropped 20 cm of snow, but as of 9:00 November 14, cleared all highways, bridges, and most of interquarter drives.
"Kyiv region on the approaches to Kiev has also undergone certain complications with snow removal, whereby was formed a 15-kilometer buffer zone around Kiev. 18:00 yesterday to 9:00 this morning was limited to the entry of large vehicles. As of 9:30 groups is allowed the transport in Kiev", – he added, noting that due to disputes of drivers of large vehicles with police on the eve of congestion.
Separately Bondarenko said that in the capital work in the morning 173 units of snowplows housing organizations, in General, for the day involved more than 600 units of snowplows "kievavtodor", "Kyivpastrans", "Kievzelenstroy" and housing organizations, and used more than 70 tons of salt and sand-salt mixture.
Head of Kyiv city state administration has also said that the removal of snow from Kiev will start only at night, but there are certain complications on motorways, given that the average on 1-1,5 stripe road narrowed.
We will remind, in Ukraine raging storm. During the week, according to weather forecasts, expected heavy snow and blizzards, snow drifts, wet snow with rain and sleet sticking, on roads in some places sleet.
Because of snow , dozens of trains are latein three regions of Ukraine closed schools and kindergartens, as well as de-energized for nearly a thousand settlements.
Comments
comments