In the center of Kiev fell from the roof of flats snow broke auto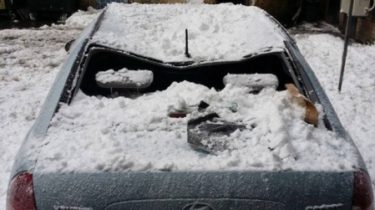 In the center of Kiev fell from the roof of flats snow broke auto
Kiev
Today, 15:14
1 of 4

© Facebook/Kiev car

1 of 4

© Facebook/Kiev car

1 of 4

© Facebook/Kiev car

1 of 4

© Facebook/Kiev car
© Facebook/Kiev car

© Facebook/Kiev car

© Facebook/Kiev car

© Facebook/Kiev car
The incident occurred on the street Leo Tolstoy.
In the center of Kiev on the street of the Lion thick lump of snow that fell from the roof of high-rise buildings, smashed parked cars.
It is reported "Kiev car" on the page in Facebook.
See also: In the Ternopil because of the snow collapsed the roof of the restaurant
As eyewitnesses told, the impact of the snow was strong enough to dent the roof of the car inside.
Besides, it is reported that broken front and rear glass of the car. Fortunately, as a result of incident nobody has suffered.
See also: Forecasters warned of a significant increase of wind in Kiev
We will remind, in Ukraine raging storm. During the week, according to weather forecasts, expected heavy snow and blizzards, snow drifts, wet snow with rain and sleet sticking, on roads in some places sleet.
Because of the snowfall in Ukraine late dozens of trainsand de-energized for nearly a thousand settlements.
Comments
comments