In the Zhytomyr region the leadership of the military unit was selling fuel for ATO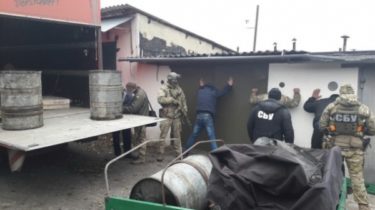 In the Zhytomyr region the leadership of the military unit was selling fuel for ATO
ATO
Today, 12:43
1 of 4

© Press service of the SBU

1 of 4

© Press service of the SBU

1 of 4

© Press service of the SBU

1 of 4

© Press service of the SBU
© Press service of the SBU

© Press service of the SBU

© Press service of the SBU

© Press service of the SBU
The attackers blamed the fuel, and then sold.
The leadership of one of military units of Zhytomyr region appropriated and sold fuels and lubricants designed for the needs of the ATO.
It is reported by the SBU.
The scheme had attracted the commander of the unit, heads of service and warehouse and warehouse worker – Kum commander.
They forged documents, which were written off diesel fuel and gasoline for military equipment, which was in the area of the ATO. Supposedly the fuel used in 200-liter barrels return with the ATO in the Zhytomyr region and sold at a reduced price to private entrepreneurs.
Every month they chalked up five tons of diesel and gasoline. Law enforcers detained intruders during the sale of three tonnes of fuel imported on 10 November from the Lugansk region.
During the searches, seized fake documents that confirm illegal write-off and realization of fuel.
Pre-judicial investigation proceeds.
We will remind, in Poltava region exposed a large-scale theft of state oil. luminite have caused damage to the state from 1.5 to 2 million hryvnia.
Comments
comments