Parubiy believes the attack on Boiko Lyashko part of the plan "the connecting Rod"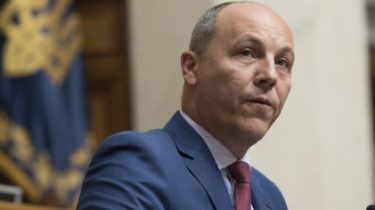 Parubiy believes the attack on Boiko Lyashko part of the plan "the connecting Rod"
© UNIAN
According to Parubiya, Boyko wanted to turn the meeting into "a Playground for destabilization".
Chairman of the Verkhovna Rada, the representative of the party "people's front" Andriy paruby has responded to the conflict with the participation of the Chairman of the faction "the Opposition bloc" Yuriy Boyko and the leader of the Radical party, Oleg Lyashko during a session of the conciliatory Council.
About it reports a press-service of the party "people's front".
"This, I am convinced – order from the outside in order to weaken our government. Representatives of the same political party that brought Ukraine to this crisis, trying to transform an ordinary working meeting ground for destabilization," – said paruby.
"I as the Chairman of the Parliament won't allow it. There will be no destabilization, there will be no "Rod" in the Verkhovna Rada", – said Parubiy.
He instructed the Committee on rules to address the situation that occurred between the people's deputies during the conciliation Council.
"The regulations impose various forms of punishment for such behavior, and I am convinced that together we should evaluate and prevent these things in the future. It is my clear position," – said the speaker.
See also: Boyko called "adequate response" beating Lyashko in the Rada
Recall, between people's deputies Oleg Lyashko and Yuriy Boyko clashed. "Boyko, Lyovochkin drive on Moscow regional, the instructions get in the Kremlin. Others go for the Brussels regional… I Have a question for the SBU: why they go to Moscow and still not in jail," accused the ex-regionals, the leader of the Radical party.
After that, Yuriy Boyko stood up and slapped Lyashko got punched in the face.
Comments
comments