The BPP said, who should become the new head of national police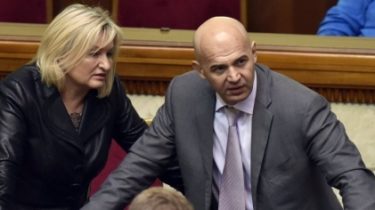 The BPP said, who should become the new head of national police
© UNIAN
In fraction consider that Dekanoidze not fully done his job.
The Deputy Chairman of the faction "block of Petro Poroshenko" Irina Lutsenko told, what should be the new head of the National police.
She stated this to journalists, UNIAN reports.
From her point of view, the new head of the national police should be "Ukrainian, who has worked in law enforcement and worked long enough, it needs to be unbiased, who has serious experience".
Lutsenko stressed the need to hold a competition for the position of head of national police, but before that you need a clear understanding of what tasks are required of the person in this position.
Commenting on the statement Dekanoidze resignation, Lutsenko noted: "Apparently, the resource is exhausted. Georgia is slightly smaller than Ukraine", – she added.
According to Lutsenko, the part of the work, which involved Dekanoidze, she did not completely.
She stressed that police reform is not realized up to the end.
Lutsenko also believe that the resignation Dekanoidze will not lead to the curtailing of the reforms, and its successor will have to finish it.
See also: Dekanoidze said the interference of politicians in police work
We will remind, the head of the National police of Ukraine Khatia Dekanoidze has resigned. Acting police head Vadim Troyan, who worked as the first Deputy At Dekanoidze.
At the briefing Dekanoidze said that does not consider him worthy of this post. "I don't think Trojan is a politically independent person. So I don't see him for the presidency of the National police," said the Chairman Nacpac.
Comments
comments