The national security Council denied the establishment of the headquarters for the "dispersal third Maidan"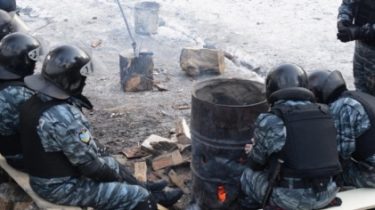 The national security Council denied the establishment of the headquarters for the "dispersal third Maidan"
© UNIAN
Security officials at the national security Council, operate in accordance with the provided to them by the Constitution and laws of the authority.
All law enforcement agencies in Ukraine work in a regular mode and no headquarters for the "dispersal of the Maidan"
This is stated in the statement of the press service of the NSDC.
In the NSDC say that the Pro-Russian media, according to set by their supervisors task trying to escalate the situation in the country to destabilize it.
So, on one of the sites has information about the creation of the national security Council "mythical headquarters to disperse a third Maidan".
However, in the NSDC assure that posed no "headquarters", and all law enforcement agencies in Ukraine are operating normally, according to its Constitution and the laws authority.
See also: Court upheld the detention of the accomplice of "berkutovets"
We will remind, the General Prosecutor Yuriy Lutsenko recently stated that the participant of Euromaidan helped bring from Kiev employees of "Berkut" with the so-called "black hundreds", which were shot in the revolution.
The suspects in the shootings at Euromaidan ex-Berkut officers spend behind bars for another two months
TSN. Pdsmi day
28 Sep, 00:02
Add to favourites
Today in the Svyatoshinsky district court of Minsk considered the circumstances of the murder of Nikolai Pankov, but Berkut officers drew attention not to shot people, and that participants in the revolution themselves had weapons, and video can be viewed by unknown snipers.
Comments
comments