"BPP" was expelled from the international delegations Zalishchuk and Hiring. MPs accuse Kononenko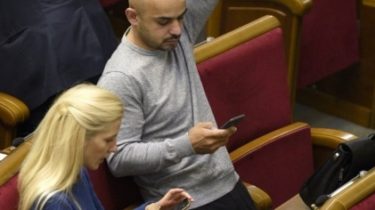 "BPP" was expelled from the international delegations Zalishchuk and Hiring. MPs accuse Kononenko
© UNIAN
Nye said the decision of the faction "witch hunt".
The faction of the BPP was expelled deputies Svetlana Zalishchuk, Mustafa Nayem, Natalia Novak from international delegations.
Reported herself Zalishchuk in Facebook. She said that she was excluded from the delegation to the parliamentary Assembly of the Council of Europe and the Parliamentary Committee of the Association, and Nayem from the NATO PA and the OSCE PA.
See also: Nye after a woman accused Poroshenko of people in the surveillance
Iniciatorom this decision, she said, was made by the MP Igor Kononenko.
"The reason is ostensibly because Mustafa "the members of the other party". That Is The Democratic Alliance. Natalia Nowak – member of the "Waves". Although in reality this party is not registered," said Zalishchuk.
In addition, as stated by Deputy head of the faction "MFP" Sergei Berezenko, the people's Deputy Serhiy Leshchenko was also excluded from international delegations. Although this Deputy is not one of them.
"With sadness I read the statement by Sergey Berezenko that BPP had me removed from international delegations, in which I "presented" faction. Special tragicomical adds the fact that the MFP did not delegate me to one of the delegations, respectively, to withdraw me from them too," he wrote in his Facebook.
See also: Nayem withdrew from the post of Deputy head of "BPP" in the Verkhovna Rada
In turn, Nye said that the decision of the faction "witch hunt".
"Actually, that's a red flag of a witch hunt in the best traditions of the scoop. Igor Kononenko was never interested in the composition of the parliamentary delegations and, in principle, matters of international policy. Not it forms a fraction position in international delegations," – said the MP in Facebook.
We will remind, in July, Nye wrote the application about addition from itself powers of the Deputy Chairman of the BPP. He had entered a different political party "democratic Alliance".
Comments
comments