Parubiy has approved the opening of a criminal case because of the fight Lyashko and smartly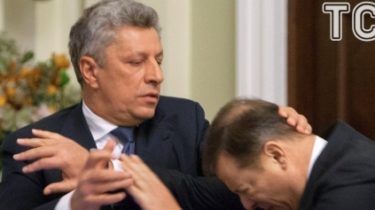 Parubiy has approved the opening of a criminal case because of the fight Lyashko and smartly
© Reuters
The reaction of the former regions it considers unacceptable.
Initiating a fight with a co-chair of the faction "Opposition bloc" Yury Boiko, the leader of fraction "Radical party" Oleg Lyashko is inadequate. This was announced yesterday, November 14, speaker of the Verkhovna Rada Andrei Parubiy in the air of ICTV channel.
He stressed that he considered the right opening of the criminal case on the fact of fighting and added that the conflict that arose at the conciliatory Council were baseless.
Also read: boxer-champion analyzed the fight Lyashko Boyko: the defeat and knockdown
"The Parliament, the Verkhovna Rada is the place where between the deputies are very often debated. Perhaps, there is no plenary of the day to me was not the accusations, including from the Opposition bloc, is often unfair, hurtful, and tough prosecution, but this is not a reason to start a fight," – said paruby.
Asked the host about the possible srezhissirovannyj situation paruby said: "I think today was an inadequate response, I think today was unacceptable was the reaction of the head of the faction "Opposition bloc" Boyko".
The speaker called unacceptable the situation where "the Chairman of the faction of the political debate uses a fight, the more the political force, which has this tendency. I remember it well from the previous Parliament. I believe that such things are unacceptable and think it is right that a criminal case and believe that such things should not be allowed".
MP Boiko beat Oleg Lyashko at the conciliation Council
TSN. Pdsmi day
Yesterday, 23:34
Add to favourites
The leader of the faction "Opposition bloc" at the meeting in Parliament was hit in the face to the leader of Radical party Oleg Lyashko. Because the radical accused opublikoval in cooperation with the Kremlin. The second time with his fists on Lyashko Boyko rushed after the replica of the outgrowths of Yanukovych. What so has excited the usually unflappable ex-regions, refer to the material TSN.
We will remind, on November 14, people's deputies Oleg Lyashko and Yuriy Boyko had a fight right during the meeting of the conciliation Council in Parliament. The radical accused the representative of the Opposition bloc that goes to Moscow for instructions from the Russian authorities. In response to brisk hit Lyashko.
Parubiy expressed the view that this incident may be part of a Russian plan to destabilize the situation in Ukraine under the name "Rod".
A kick in the head and shouts of "Moscow the NIT". As smartly and Lyashko fought in Parliament
Policy
Yesterday, 13:40
1 of 9

Fight smartly and Lyashko
© UNIAN

1 of 9

Fight smartly and Lyashko
© UNIAN

1 of 9

Fight smartly and Lyashko
© UNIAN

1 of 9

Fight smartly and Lyashko
© UNIAN

1 of 9

Fight smartly and Lyashko
© UNIAN

1 of 9

Fight smartly and Lyashko
© UNIAN

1 of 9

Fight smartly and Lyashko
© UNIAN

1 of 9

Fight smartly and Lyashko
© UNIAN

1 of 9

Fight smartly and Lyashko
© UNIAN
Fight smartly and Lyashko
© UNIAN

Fight smartly and Lyashko
© UNIAN

Fight smartly and Lyashko
© UNIAN

Fight smartly and Lyashko
© UNIAN

Fight smartly and Lyashko
© UNIAN

Fight smartly and Lyashko
© UNIAN

Fight smartly and Lyashko
© UNIAN

Fight smartly and Lyashko
© UNIAN

Fight smartly and Lyashko
© UNIAN
Comments
comments