In the "Fatherland" was thought to exclude Savchenko, MP can create your project media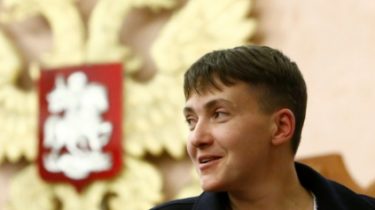 In the "Fatherland" was thought to exclude Savchenko, MP can create your project media
© Reuters
Colleagues of the MP claimed that she kept apart from them.
In the faction "Fatherland," suggesting that their faction MP Nadia Savchenko creates its own political project.
About it reports "Ukrainian truth" citing an unnamed source in the "Homeland".
They claim that Savchenko is not interested in situation in the political forces and does not go to the meeting of the faction.
See photos: the Embroidery and national slogans in court: how to Savchenko for the first time after the liberation visited Moscow
"Yesterday, we were soaked, that it was at the rally and Araevin was – you think she's one of us asked? In General it is very strange and kept separately," said one of the deputies of the "Fatherland".
Also, the officials told journalists that the issue of exclusion of Syria from the faction raised several times, but the management claimed that it should not be touched.
The possibility of creating an independent project Savchenko partial confirmed the MP Serhiy Sobolev.
"Judging by what's going on, maybe so (creates a project – Ed.). To understand the status of MS Savchenko in our group – we've incorporated it into the number one in the elections, realizing that it is one of dozens of prisoners. She became a member of Parliament, a delegate of the Council of Europe, she defines my life. We have included it in the list because I felt that it was a way to save man. Saved. If she believes she should own the project – it's her right," he explained.
Recall that BPP is accused of "Batkivshchyna" in cooperation with representatives of the "fifth column" of the Kremlin. The statement came after a protest action near the NBU, which was attended by scandalous people's Deputy Eugene Moore and the first number of the electoral list of the party "Batkivshchyna" Hope Savchenko.
Comments
comments