In the Hague for occupation of Crimea with Russia recognized international armed conflict – report of the Prosecutor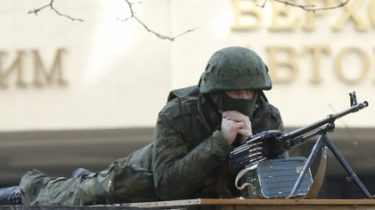 In the Hague for occupation of Crimea with Russia recognized international armed conflict – report of the Prosecutor
© Reuters
In February 2014, Russia has mobilized its armed forces to establish control over part of Ukraine
The Prosecutor of the International criminal court, Fatou Bensouda, in its report on the preliminary investigation of Ukrainian Affairs acknowledged that "the situation on the territory of Crimea and Sevastopol, equivalent to the international armed conflict between Ukraine and the Russian Federation".
This is stated in the document that in case "the Situation in Ukraine."
"This international armed conflict commenced not later than 26 February, when the Russian Federation has mobilized the personnel of their armed forces to gain control over parts of Ukraine without the consent of the government of Ukraine. The law of international armed conflict can be applied after 18 March 2014 the extent to which the situation in Crimea and Sevastopol would be tantamount to a state of occupation that is still ongoing. Determination of the legality of the initial intervention, which resulted in the occupation, not required. For the purposes of the Rome Statute armed conflict may be international in nature, if one or more countries partially or completely occupied the territory of another state", – stated in the report, which was published yesterday, November 14.
Fatou Bensouda is the first woman who got a job at the Hague Tribunal. She was a Prosecutor in the Gambia, and his international career started at the International Tribunal on genocide in Rwanda.
In March 2014, Russia occupied the Autonomous Republic of Crimea. The annexation of the Peninsula is not recognized by the UN General Assembly, PACE, OSCE PA.
Comments
comments