Israel can recognize the Holodomor as genocide of Ukrainians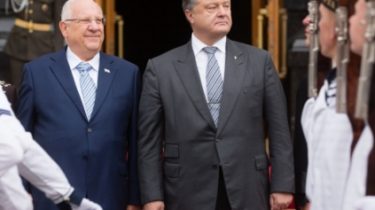 Israel can recognize the Holodomor as genocide of Ukrainians
© The website of the President of Ukraine
Consideration of this issue is possible this week.
The issue of recognition of Holodomor 1932-1933 genocide of the Ukrainian people will be considered in the Parliament of Israel. It is reported by Ukrainian Pravda, citing information diplomats of the state.
Initiated the development of the Declaration became the honorary Consul of Israel in Western region of Ukraine Oleg Vishnyakov. He stated that the document is intended to bring together both people. "The fact that Israeli parliamentarians understand the need for the adoption of the resolution, makes our peoples closer. The Israelis are the only people who, as no one understands the tragedy of the Ukrainians, that a deliberate genocide, which was initiated by the Stalinist regime," – said the author of the idea.
See also: the Day of Holodomor in Ukraine will limit entertainment and to light candles of memory
According to the information of the Consulate of Israel, the draft resolution was approved by the Presidium of the Israeli Knesset. "Today the Presidium of the Knesset led by speaker Yuli Yoel Edelstein approved the draft resolution on recognizing the Holodomor as genocide of the Ukrainian people. To discuss the question MPs will be on the current plenary week. Put forward the theme of Deputy speaker of the Knesset, the Deputy from party "Likud" Nava Boker" – elaborated on diplomats.
This year the Prime Minister of Canada Justin Trudeau, who arrived in Kiev on Sunday, honored the memory of Holodomor victims. Together with his son, he laid flowers to the monument in the centre of the capital.
The members of the delegation of Knesset members began a week-long visit to Kyiv with a tour of the Museum of the Holodomor
TSN. Pdsmi day
27 Sep, 01:17
Add to favourites
To recognize the Holodomor as genocide of the Ukrainian people – Ukrainian scientists called on members of the Israeli Knesset. In Ukraine the delegation will stay a week and take part in honoring the victims of the genocide against the Jewish people, particularly in Babi Yar in Kiev. However, their visit the parliamentarians, among them three Vice-speaker of the Knesset, began with trips to the Museum of the Holodomor.
Comments
comments