Rada endorsed the draft law Poroshenko on the protection of investors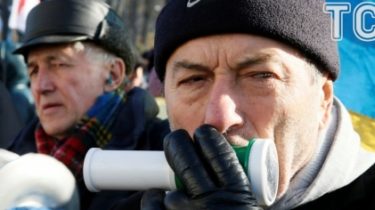 Rada endorsed the draft law Poroshenko on the protection of investors
© Reuters
285 MPs supported the document.
Today, 15 November, the Verkhovna Rada during the meeting adopted the presidential bill on the protection of investors.
The initiator of the draft law on amendments to some laws of Ukraine concerning compensation to individuals through the system of guaranteeing deposits of physical persons of the harm caused by abuses in the field of banking and other financial services were made by the President Petro Poroshenko.
For the document voted 285 deputies.
See also: Experienced participants of the meetings told the details of his "protest" in Kiev
In the explanatory note to the bill States that it was designed to protect the rights of individuals who have been deceived through the mediation of banks. The adopted law will help resolve the question of reimbursement of the funds, and to prevent such abuses in the future.
The document proposes to equate to the contribution of the funds attracted from the public as a loan or contribution to the non-banking financial institution through an attorney under the relevant contract by the Bank.
Guarantee for reimbursement of funds will be in the case if on the date of entry into force of this act, the attorney, the Bank was declared insolvent.
Also, the text of the explanatory note stated that according to the Fund of guaranteeing the deposits of individuals the Bank is "Michael" deceived about 14 thousand individuals in the total amount exceeding UAH 1.5 billion.
We will remind, on November 15 in the center of Kiev rallies gathered pensioners and young people. On the question of the purpose of the action participants reacted aggressively, and some never knew why they came. Mostly people said, they want to return the money, but did not call the Bank, which allegedly had the Deposit. Also part said that demanding the resignation of the head of the NBU Valeria Gontareva.
The capital was flooded with participants in the various protests
TSN. 16:45
Today, 17:04
Add to favourites
From the morning until 15 o'clock the centre of the capital was paralyzed. In the government quarter protested the deceived investors of banks and unhappy with the new rates to consumers. The movement was blocked. Patrolling Kiev streets brought 5 thousand militiamen.
Earlier, the SBU reported that Russia is preparing for large-scale destabilization of the situation in Ukraine from November 15. About the beginning of the implementation of such a plan according to information taken from the mailbox of the Russian President's adviser, Vladislav Surkov, say security forces.
The purpose of the plan of the Russian Federation – the internal destabilization of Ukraine. It is an organization of early parliamentary elections in our country to bring to power and the strengthening of Pro-Russian forces in the new Parliament.
Comments
comments